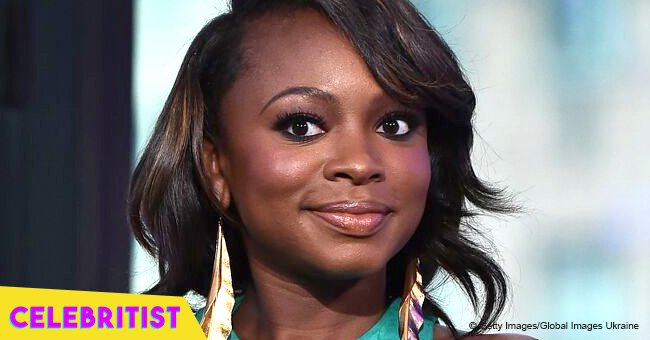 'Power' star Naturi Naughton steals hearts with photos of baby daughter in white princess dress
The American actress and singer-songwriter became a mother for the first time last year, and shared that it is her most important and rewarding job.
Naturi Naughton has been playing a mother on screen in STARZ series Power for a while now, but she only gave birth to her first child, a daughter named Zuri, in real life on July 19, 2017.
Naughton recently took to her Instagram account to share a photo of herself and her daughter, just days before the tiny tot's first birthday, taken at her christening.
"My biggest blessing... #BabyZuri #Christening I'm overflowing with gratitude & love!Dedicating her back to God in the church that I grew up in brought me to tears! #NewHopeBaptistChurch #eastorange #NJ#GodSentAnAngel #happySunday #family," she captioned the beautiful photo.
Within just a day, Naughton's post had almost 190,000 likes on it already, and her fans had taken to the comments section to swoon over her baby girl's adorable smile.
In the image, Naughton was holding her daughter on her lap. The sweet tot was dressed in a little white dress with a floral trim on the neckline and around the bodice, and a matching white headband with flowers.
The proud mama was wearing a bright pink shirt with mesh detailing around her neck and a pair of drop earrings as she smiled out from behind her daughter in the image.
The little girl is a regular feature in her mother's Instagram photos, showing just how special their mother-daughter bond is as the sweet tot celebrated her first birthday.
Speaking to the media at the 2018 Essence Festival, Naughton expressed the challenges she faced in 2017 while filming Power at four-and-a-half months pregnant, and having to portray a woman who had just lost her child.
"When you get a role in a movie or on a show, that's exciting," she said. "But this—motherhood and being a mother– is the best and biggest role of my life."
Naughton, who is also an activist for black women, can't wait for her little girl to grow up and also became a part of the movements that are sweeping across the globe.
"I can't wait for my daughter, Zuri, to experience Black Girl Magic and the movement of celebrating beautiful brown women," she added. "I'm honored to be a part of that example."
The actress also recently shared with People Magazine that just two weeks shy of her first birthday, baby Zuri has taken her first step, something that as a first time mother she was elated to see.
"I'm loving motherhood, my baby just took one step by herself, she's trying to walk," Naughton said. "These milestones are making me feel like it's all worth it. You know being pregnant, shooting, breastfeeding while shooting, I did a lot."
Speaking on her series, Power, the actress explained just how big the show is getting.
"People are going crazy," Naughton explained of the hype surrounding the show. "I mean this season started with a bang, last season ended with a bang, I think fans are super engaged on social media."
"Power fans are the best fans I think out there as far as television shows, so I'm really grateful," she added.
Please fill in your e-mail so we can share with you our top stories!