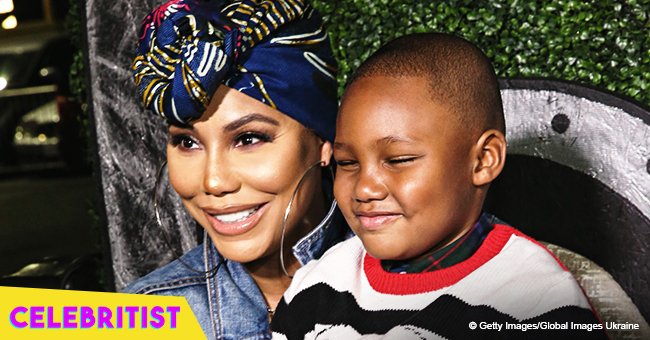 Tamar Braxton proudly shares 5-year-old son's 'shady' letter to his grandmother in new pic
Tamar Braxton's son's "memo" for his mom reveals a side of the boy that's much like his mother.
Tamar Braxton's son has fans in stitches after his mother shared a note the little boy left which seemed to be throwing shade on his grandmother. The singer posted a photo of the 5-year-old's note that read,
"Mom-mom, I'm only staying 2 days, Love Batman Logan"
Amused at the apparent shade on her mother, Tamara captioned the photo,
"Although he's shading the Heck out of my mother… the point is that LOGAN is GOAT #thatsall"
The memo had fans laughing in delight proving what a personality Tamara's son is, just like his mother.
"Lol that is just too precious. Logan said, 'I won't be before you long' (Bishop Eddie Long voice)"
"He had to let it be known 2 Days And that's it!"
"Now Tamar said she wanted a child just like her. Remember that now she got one a male one at that."
It's evident Logan's loyalty is to his mother first and foremost. It's not surprising since his mother refers to him as her "miracle baby."
In an episode of TV One's 'Uncensored', the 41-year-old opened up about her commitment to raising her only son she shares with ex-husband Vincent Herbert.
"I realize my responsibility is not just to be his mother. It is to be his mother who is raising the most amazing Black man that I can possibly have control over. And that is just making sure that his education is very important and that he's morally responsible and that he's sure of himself. That he can do anything he wants to do but he definitely knows the struggles of a Black man in America."
Tamar also admitted that since having Logan, her life is no longer just about her but always about the two of them.
"I live my life for me. But since Logan, I live my life for us. Because I have to make sure I'm happy, to be the best person for him. Me being a good example of a woman means the world to me."
Please fill in your e-mail so we can share with you our top stories!