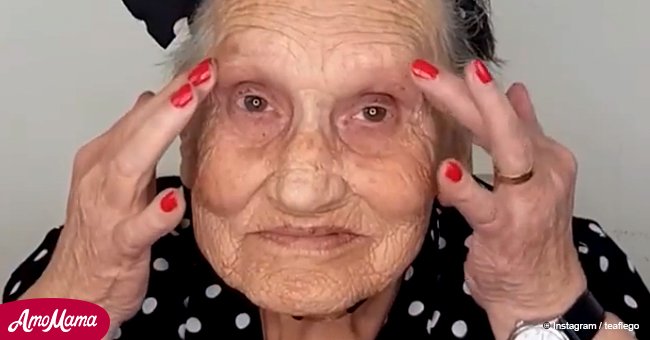 80-year-old lady gets stunning makeover from granddaughter and looks unrecognizable

With growing popularity, social media star Tea Flego's grandmother has now been nicknamed "Glam-ma" online.
Instagram Celebrity Tea Flego surprised her fans and followers by making her grandmother the main focus of her art.
Flego, who owns a makeup studio in Pula, Croatia and has worked in the film industry, managed to stand out from the flock of other makeup artists who are active online, by featuring her grandmother and giving her a complete makeover.
Grandmother Livia, who is now affectionately called 'Glam-ma', has become the center of attraction of Tea Flego's social media presence.
With artificial eyelashes, high cheekbones, perfectly painted lips and detailed contouring, Glam-ma looked nothing close to the 80-year-old that she actually is. Flego used a colorful wig and a gorgeous dress to complete Livia's youthful look.
Read more about similar makeovers on out Twitter account @amomama_usa.
As her granddaughter's model, Livia has over 160 thousand followers from all over the world. Apart from being an internet sensation, she is blessed with 5 children, 12 grandchildren, and 16 great grandchildren, as reported by Today.
Working out of Pula, Flego was a fan of makeup since her childhood and would often try her styles and techniques on her grandmother.
However, she had never recorded their makeup sessions on camera before, much less shown it to the world.
The 32-year-old professional shared that it took her a complete 45 minutes to transform her Grandma to 'Glam-ma.'
Right now, Livia seems to be enjoying her newfound fame and has become a regular on Flego's account and a favorite with her fans.
Living in a nursing home in Split Croatia, Livia loves being part of her grandaughters passion projects. However, she hastens to remind everyone that she is okay with her wrinkles and her old age, and she is not afraid to be on camera without makeup.
She wants the world to know that anyone can be as glamorous as her. She discarded the idea that ugly women exist, and indicated that a poor physical appearance was a result of laziness rather than ugliness.
Please fill in your e-mail so we can share with you our top stories!