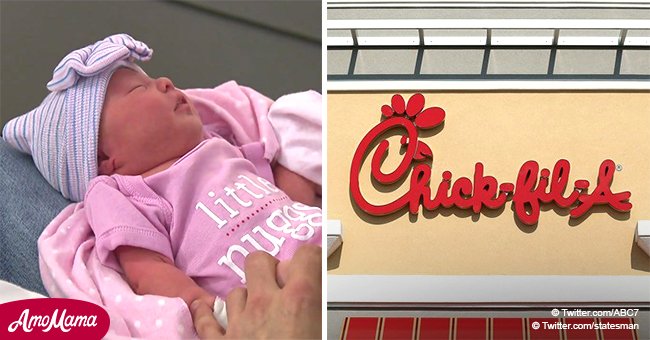 Couple unexpectedly delivers baby at Texas Chick-fil-A
Chick-Fil-A employees are used to delivering sandwiches, but babies? Not so much.
The Griffin family have always been loyal customer's of the Chick-Fil-A fast food restaurant in San Antonio, Texas - but they never expected to deliver their baby there, reported KSAT.com.
All through her pregnancy Falon Griffin has been munching on Chick-Fil-A treats, she even bought her unborn baby a Chick-Fil-A onesie three months ago with a cute caption that reads 'Little Nugget.'
On the 17th of July, Fallon started experiencing strong contractions, so she and her husband Robert headed for University Hospital, stopping off on the way to leave their two daughters with a family friend, who met up with them in the parking lot of the Stone Ridge Chick-Fil-A on U.S. 281.
Fallon told her husband that she needed to use a bathroom urgently, and he knocked on the door of the restaurant, which was closed at that time. The staff opened the door and let Fallon in.
"I didn't know I was going to have a baby in there! I was going to the restroom,"
Falon Griffin, KSAT.com, 17th of July 2018
Fallon ran to the bathroom, but by the time she got there the baby was already well on the way to being born
Brenda Enriquez, Chick-Fil-A store director, was about to call 911 when she heard Fallon screaming. Enriquez grabbed some towels and called Robert Griffin to help his wife deliver her baby
Later Griffin said: "I looked at her and said, 'We're going to do it right here, right now.'"
Read more inspiring stories on our Twitter account @amomama_usa.
Fallon confessed that she was in agony, and frightened, She knew that her husband was not experienced at assisting at a delivery and was fearful for the baby.
Fallon's anxiety was heightened because this was the culmination of a high-risk pregnancy that might put both her life and baby Gracelyn in danger.
As Gracelyn started to emerge from the birth canal, Griffin held her shoulder, after seeing a white cord wrapped about the baby's neck. He untangled the cord from around his daughter's neck, saving her life.
By the time the first responders arrived Gracelyn was was pink, and healthy. Mother and daughter are well and recovering from their ordeal at the hospital.
To celebrate the fact that Gracelyn was the first baby ever born at a Chick-Fil-A, she will have free meals at the restaurant for life, and she's guaranteed her first job at age 14.
Please fill in your e-mail so we can share with you our top stories!