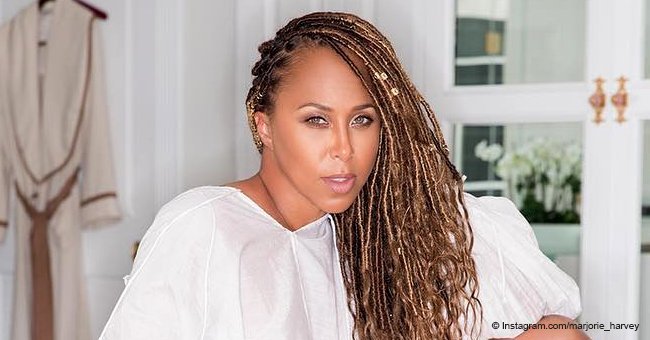 Steve Harvey debuts gray beard in video with wife Marjorie from their exotic vacation

Steve Harvey is on an exotic vacation with his wife Marjorie Harvey and a video she shared taken from a boat reveals the comedian's graying beard as he also exposes the kind of wife he actually married.
Steve and Marjorie Harvey just celebrated 11 years of wedded bliss last month and it seems they're still making a honeymoon out of their most recent vacation amid rumors of an impending divorce. The apparently happy couple are currently traveling in Italy and even shared photos of their time there. Marjorie greeted her fans a "Happy Bastille Day" on July 14 and revealed the relaxed-looking couple posing in front of a resort.
Just a few days ago, Marjorie shared a video her husband took of her while they sailed on a boat, revealing how much fun they both have together. As Steve pointed the camera at her, she started dancing around the boat prompting her husband to jokingly commentate,
"Now see, this was supposed to be a spiritual video but I live with a person who has a mental problem and she crazy. So right here, this is as soulless, foolish she can get right here. I'm married to that kind of lady right there. This is our whole problem right here"
As Steve mocked his wife, she continued to prance around the boat while trying to stay serious but ends up laughing in the end. She then moves towards her husband as the camera pans to the two of them revealing Steve and his grey beard. The spouses lean towards each other for a kiss.
The couple's recent trip is proof that their marriage isn't on the rocks as recent rumors are suggesting. An earlier report by Radar Online revealed they were headed for a $400 million divorce after Steve allegedly met with Kris Jenner in a closed-door meeting which prompted Marjorie to threaten divorce. But there doesn't seem to be any truth to that story seeing photos Marjorie has been sharing from their trip. If anything, those rumors may have just solidified the couple's relationship even more. See for yourself.
Please fill in your e-mail so we can share with you our top stories!