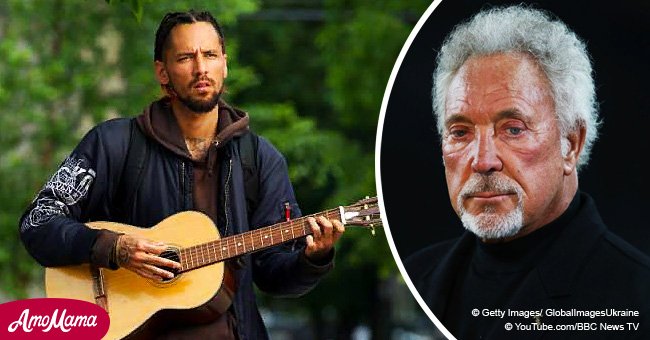 Mirror UK: Tom Jones' lovechild begs to see estranged father after singer admitted to hospital
Sir Tom Jones' 30-year-old son Jonathan Berkery from New Jersey is concerned about his father's well-being and wants to meet him before it's too late.
As reported by Mirror, lives on the streets of Hoboken and earns his living as a busker. He has never met the 78-year-old Sir Tom Jones but wants to make his peace with his father.
"When I was younger, I was angry and confused. I didn't want to see him. But now I worry about him constantly."
Jonathan Berkery, Mirror UK, July 21, 2018.
Jonathan fears that his father might die before he gets the chance to meet him and he is determined to "right the wrongs." Read more on Twitter, @amomama_usa.
The busker, who currently lives in a homeless shelter, said he only wants his father time; time to sit and talk about his life and ask Sir Tom about his.
Sir Tom was married to Linda Rose Trenchard from the late fifties until her death two years ago, and the couple has one son, Mark Jones, who is also Tom's manager.
Tom confessed to sleeping with more than 250 women at the height of his fame and had a brief relationship with model Katherine Berkery in the late eighties.
He refused to take her calls when he learned that she was pregnant, but a court eventually ordered him in 1989 to pay child maintenance every month.
A DNA test confirmed that Tom was the baby's father, but he only admitted in an interview 19 years later that the court findings were correct, Daily Mail reported.
Berkery said he didn't want anything to do with his father when he was younger: "I was angry and confused." Now, he just wants to put their difficult past behind him.
Tom rose to fame in the early '60s with his second single, It's Not Unusual. His first single, Chills and Fever didn't reach the top of the charts, but Unusual did, and the rest, as they say, is history.
Please fill in your e-mail so we can share with you our top stories!