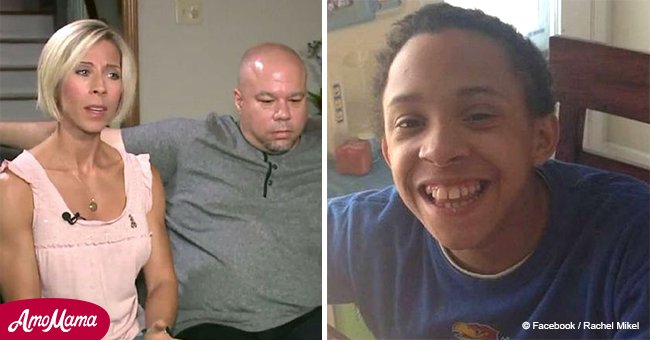 Grieving mom warns of hot temperatures after teen son with autism suddenly dies

Last week's heat proved fatal for Kansas teenager Elijah, whose parents hope that the tragic death of their son will make people take weather warnings seriously.
While Rachel Mikel is still trying to fathom the loss of her 18-year-old son Elijah, she is taking efforts to increase awareness among the people to pay attention to warnings about extreme weather and protect their loved ones.
Elijah, who was diagnosed with autism at the tender age of two, had stepped out for a day in the sun with his caretaker, according to Fox 4 Kansas City.
The duo traveled to the Clinton Lake in Lawrence, and within 15 minutes of arriving at the destination, Elijah's health condition began to weaken, and the caretaker contacted the parents immediately.
It was a hot day in the area; the temperature had risen to 102 with a heat index of 110.
Read more about the Mikel family on our Twitter account @amomama_usa.
On hearing about Elijah, Rachel was hoping that it was just one of Elijah's stubborn moments but rushed to the park to check on him.
Soon, the parents called 911 when Elijah's condition worsened, and it was found that Elijah's body temperature had shot up to almost 108.
It was also detected that Elijah was suffering from severe heat exhaustion and dehydration. While EMTs tried their best to bring the temperature down, it did not seem to drop enough.
Doctors have said that heat exhaustion is extremely dangerous, as it rapidly wears out the body's muscles, including the heart.
According to Dr. Steve Lauer, University of Kansas Health System Associate Chair of Pediatrics, 'being outdoors on days like these can severely affect the body irrespective of the age of the person'
While a bit more caution about the weather could have averted the tragedy, the Mikel family learned about its importance the hard way, the hopes that sharing the story of their son will make people more watchful of weather warnings and avert similar mishaps.
As a means of tackling extreme heat, Rachel now recommends taking in sufficient water and staying indoors when one experiences tiredness.
The Mikel family are extremely grateful for the support they have received from the Lawrence community.
Please fill in your e-mail so we can share with you our top stories!