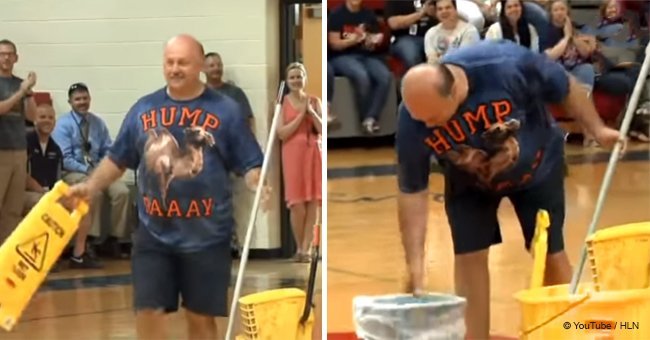 Students give janitor a bag of cash to go meet his grandson for the first time

It took a team effort, with staff and students in it together, to surprise the janitor and his wife.
Janitor Ricky Spaulding and his wife lead a simple life in Lexington, Kentucky. Spaulding's job at the Anderson County High school did not give him the luxury to travel a lot with his meager salary.
The couple was pleasantly surprised when the entire school came together for them in a way they never thought possible, as shared by HLN on Youtube.
Spaulding's son is stationed in Italy for more than a year, and he stays there with his wife. It was a difficult situation for him as he wished to visit his newborn grandson but could not afford an international ticket to travel to another continent.
Read more about Ricky Spaulding on our Twitter account @amomama_usa
Source: Youtube
Spaulding is a well-known face in the school community and has been working for a long time. He has a great relationship with the staff and students in the school.
When they came to know of his plight, it was almost a given that they had to help in some way possible.
Source: Youtube
School officials and students got together, canvassing the school, and raising money like there was no tomorrow.
They eventually managed to gather $1,900.00 in cash that is sufficient for one trip to Italy. They then gathered together to surprise Spaulding at a pep rally organized just for him.
On the pretense of cleaning a stain on the gym floor, Spaulding was called on stage, only to discover that the trash was a bag full of money.
Spaulding could barely control his emotions, as he said, "Words can't describe the joy I feel right now."
Spaulding and his wife are overjoyed at this display of affection by the school and the students. His wife suggested that now they may travel over the winter holidays.
Please fill in your e-mail so we can share with you our top stories!