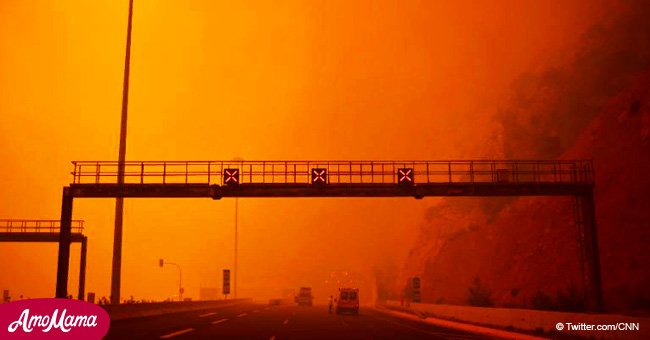 Nearly 50 dead including children in holiday area wildfire
On Monday wildfires swept through the Mati village which is 25 miles north-east of Athens, Greece. The fires were still burning in some areas on Tuesday morning.
So far, around 50 people have been killed in the blaze according to BBC. The village is located in the Rafina region which is popular with local tourists, especially pensioners, and children who attend holiday camps.
Emergency crews found a group of 26 people, some of them children, who were lying close together in a field just 30 meters from the sea near Mati. All of them had died in the flames.
The head of Greece's Red Cross Nikos Economopoulos said the group had tried to find an escape route "but unfortunately these people and their kids didn't make it in time." Authorities had previously announced 24 deaths and more than 150 injuries from wildfires before finding the 26 dead at a villa.
For more on this story go to our Twitter account @amomama_usa. The fire brigade confirmed an overall death toll of 50.
Many of those who've perished were believed to be young children. Of at least 104 people injured; 69 needed hospital treatment and 11 were in a serious condition.
"We will do whatever is humanly possible to control it."
Prime Minister Alexis Tsipras, BBC, July 24, 2018
There are concerns that the death toll will rise further. A number of calls have been made to the rescue services looking for missing persons.
Emergency workers used boats and helicopters to evacuate a beach as part of the rescue efforts. Merchant Marine Deputy Minister Nektarios Santorinios said more than 700 people had been evacuated by sea by the coast guard.
Santorinios' ministry is in charge of the coast guard. The coast guard said earlier that the bodies of three women and a child were found in the sea.
Two major forest fires are burning out of control on either side of Greece's capital. Houses have been razed, prompting residents to flee.
Greece has sought international help through the EU. Long lines of cars were found torched, farms and forests charred, and hundreds of people have raced to beaches to be evacuated by navy vessels, yachts, and fishing boats.
Winds reached 50mph as authorities deployed the country's entire fleet of water-dropping planes and helicopters to give vacationers time to escape. Military drones remained in the air in the high winds to help official's direct more than 600 firefighters below.
'We were unlucky. The wind changed and it came at us with such force that it razed the coastal area in minutes,' said the mayor of the port town of Rafina Evangelos Bournous. Italy, Germany, Poland, and France have all sent help in the form of planes, vehicles, and firefighters.
Spain and Cyprus have also offered Greece assistance. Officials have suggested that the current blazes may have been started by arsonists looking to loot abandoned homes as 15 fires had started simultaneously on three different fronts in Athens.
Please fill in your e-mail so we can share with you our top stories!