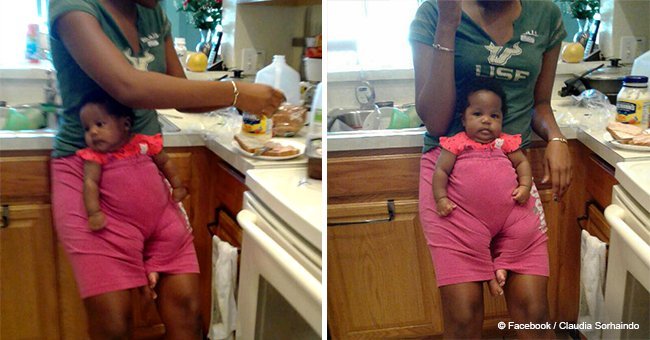 Mom shares hilarious photo of where babysitter put baby while she made a sandwich
Claudia Sorhaindo had no idea about the extent to which her niece would go to care for her daughter when she asked her to babysit for a couple of hours.
The mother took to Facebook to praise her niece's creativity when she posted the photo on January 28, 2017.
Teenagers have always been the go-to people when parents need a babysitter for children. For some teens, babysitting is even a great way to earn some easy cash.
Read more on our Twitter account @amomama_usa
For parents, leaving their children in the care of someone else takes a bit of trust. Most parents prefer a sitter with a lot of experience. Many times, family members are the only options left for parents. Same was the case with Sorhaindo.
She was obviously under the impression that her baby daughter was in safe hands when she decided to ask her fifteen-year-old niece, J'Ann, to babysit while she had to go out of the house to run a few errands.
Sorhaindo's niece found a brilliant way to multitask when she wanted to make a sandwich for herself but also did not want to let baby Ava out of her sight.
She found the perfect way to balance the two tasks by tucking the baby in front of her shorts, making a sort of kangaroo pouch, while preparing a snack for herself
J'Ann definitely did not disappoint her aunt. She was so determined to take care of baby Ava, that she even when she craved for a sandwich, she did not let baby Ava out of her sight.
The saying 'Necessity is the mother of invention' is apt in the scenario. J'Ann discovered a very funny and unique solution to the problem.
"So I had to run out the house for a quick min, so I asked my niece to babysit Baby Ava. A few mins later I received a text saying that J'Ann wanted to make a sandwich but didn't want to let baby Ava out of her sight," Sorhaindo wrote about the couple of photos she had shared of her daughter and niece on Facebook.
Baby Ava is seen sitting all cozy in her cousin's shorts pouch with her tiny feet poking out. They seem like a perfect fit.
Sorhaindo had lost her three-month-old baby girl, named Jenelle, back in 2003, so it is obvious that she would be protective of her daughter Ava and felt very content that she was being looked after so well.
Please fill in your e-mail so we can share with you our top stories!