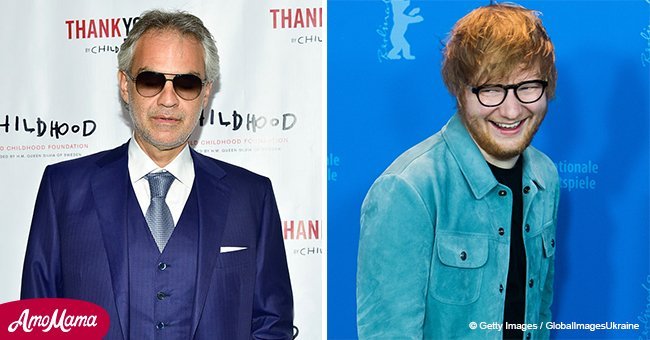 Andrea Bocelli joins Ed Sheeran for spine-tingling duet of 'Perfect'
Singing star Ed Sheeran and the legend of opera Andrea Bocelli teamed up to create a magical rendition of Sheeran's hit song, Perfect.
Perfect Symphony is yet another effort from Sheeran to experiment with his style and the way of singing.​
​​​​​​He is a confident vocalist who is growing in the industry with his unique talent and an eye for collaborating with various artists to offer something the audience has not seen before. His collaboration with Bocelli proved to be yet another one of his experimental hits.
The music is soothing and melodious. But the music video of this rendition featuring Bocelli is even more powerful and magical as it features the opera legend himself.
Follow us on Twitter to learn more.
The video shows the process of the how the song is being created, recorded, and produced, while the two stars work to present a magical symphony to their audience.
The song begins in Sheeran's soothing voice and he hits all the rousing notes with perfection. In the latter part of the song, the legendary Bocelli joins the artist in his own opera-style voice, making the song a unique fusion of two genres that come together delightfully.
The song was uploaded to YouTube on Ed Sheeran's official channel on December 15, 2017. So far, the music video has been watched over 127 million times, making it one of the most watched music videos on YouTube.
It has also gathered more than 1.7 million likes as of yet. There are also more than 60,000 people dropping in their comments on the video and expressing their opinion about the song.
One of the YouTube users, 'tenorbuds,' commented that the two different vocal styles have come together in a magical way to create an 'incredible duet.' Others wrote that the music that they have created is 'rare' and one that gives 'butterflies in your stomach.'
Please fill in your e-mail so we can share with you our top stories!