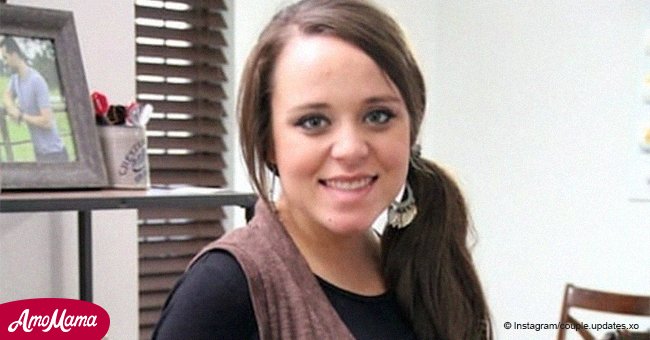 Jinger Duggar shares details about newborn baby
The 24-year-old Jinger Duggar and her husband, Jeremy Vuolo welcomed their first child, daughter Felicity, earlier this month.
In an exclusive interview with US Weekly, Jinger described what is it like in their household with a newborn, and said she is grateful for the help received from her sisters and mother.
"I have been so thankful to have so much great help around me, giving me time to rest and recover."
Jinger Duggar, US Weekly, July 25, 2018.
She added that motherhood has been incredible and that they cannot stop staring at Felicity's "adorable little face." Read more on our Twitter, @amomama_usa.
Jinger's mother Michelle and her sister Jessa is currently visiting her in Texas and are helping her adapt to her new way of life.
Not only are they giving her valuable pointers and some much needed time to rest, but Jessa also designed Felicity's room.
With Jinger's approval, Jessa decorated the nursery with a cowboy Southwest theme. Jinger joked that it's fitting since they live in Laredo, Texas.
Besides her family, Jinger also grateful to God for being so gracious and entrusting them "with such a wonderful gift" and the privilege of raising a child.
The couple had been eagerly awaiting Felicity's arrival, and even chose her name several months in advance.
Jinger explained that it means "intense happiness or supreme joy." Jeremy loved it since the first time they discussed it.
Felicity is also the name of a steadfast Christian girl who stood by her principles and remained firm in faith despite opposition.
According to Inquisitr, Felicity's namesake may have been a young martyr and slave girl from Cartage who was executed in 203 A.D for standing up for her faith when Christianity was banned.
Unlike her sisters, Jinger gave the home birthing experience a miss and delivered in San Antonio, more than two hours drive from Texas.
No explanation was given, and it is assumed that Jinger either gave birth in a hospital or at a birthing center.
Please fill in your e-mail so we can share with you our top stories!