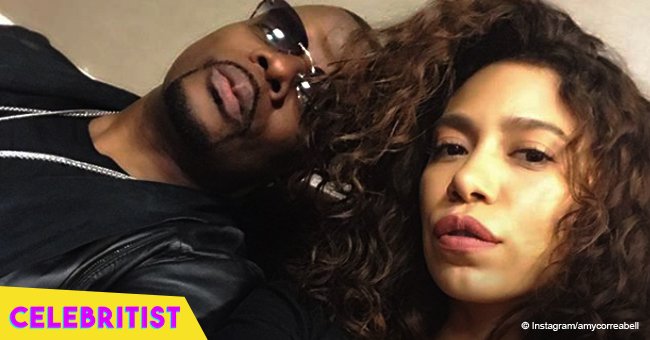 New Edition's Ricky Bell's wife flaunts taut abs in white crop top & mini shorts in recent pic

Amy Correa Bell flaunts her flat midriff in a new set of photos she posted on Instagram to promote her latest project.
Ricky Bell's wife, Amy Correa Bell, has had quite a year after he decided to collaborate with her musically this year. Despite Ricky's three-decade-long career and his numerous hit records and singles, this is the first time that the couple has joined forces to create music.
On Valentine's Day 2018, Essence shares that Bell and his wife of 14-years have released their first duet just in time for the holiday. The acoustic love song is called "Gold", which highlighted their strong relationship despite Ricky's history of drug abuse and his long roller coaster of a career.
The song pays tribute to the couple's extremely private marriage life and their devotion to one another and sheds some light on the beauty of their marriage. What makes the song even better is that 100-percent of the proceeds from their sales will head to Direct Relief, a charity that provides life-saving medical aid to those affected by poverty and emergencies.
The video for their song dropped on March 1, and the Belles starred in it together. Watching the video, it is clear that the two of them are very in love with one another, and their passion remains the same through these years.
Essence also sat down with the couple to ask them more about their private life, and they happily obliged. When asked about why they only collaborated musically this year, he said:
"The decision was made based off of our story together, our life together, and our marriage together, and sharing that story through song. I was listening to my wife's EP that she was working on and I heard so much glow in the production, in her writing, in her performance. It was so amazing that I was inspired by it, and I said, "Wow babe! I want to be a part of this project. Let's do a song together." That's how we came up with the song that we have now."
That said, Amy's recent posts have been to promote other songs in her EP, all while flaunting her covetable body. Despite being 36-years-old, she does not look a day over 20, and can still pull off the styles that she wears today.
"NEW MUSIC UP! LINK IN BIO. DISGUISE/GOTTA LOVE(3 different versions)PRODUCED BY @IamBOZGO"
We can't wait to hear more of what Amy has up her sleeve!
Please fill in your e-mail so we can share with you our top stories!