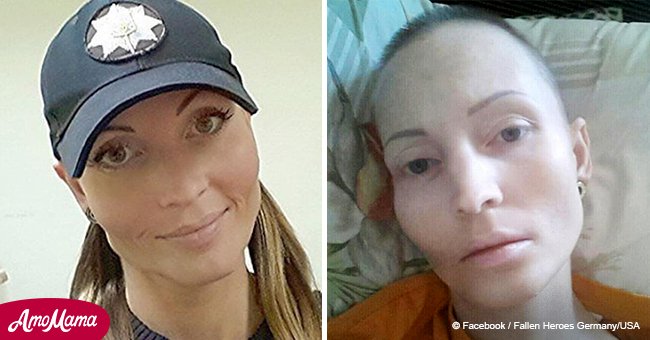 Police officer sadly dies after suspect spits in her face
Arina Koltsova, a policewoman, lost her life after contracting tuberculosis when a criminal she was taking into custody on New Year's Day, spat in her face.
The officer was carrying out her duties in Kiev, Ukraine, when she contracted the illness. She lost her life a few months later on July 25, 2016, said the official Facebook account of the department.
Koltsova, 35, was taking a suspect into custody in Kiev when the man spat in her face. At the time she was unaware that the alleged criminal was suffering from tuberculosis.
Read more on our Twitter account @amomama_usa.
Koltsova was not treated for the disease until much later when she collapsed at work one day. It was after this incident that she was hospitalized and diagnosed with tuberculosis. Her treatment began immediately after her diagnosis.
"She became ill after New Year's Day," her on-duty partner, Officer Mikhail Kindrakevich, wrote. "She had arrested this guy and he spat in her face. Sometime later she collapsed. She had received treatment. She underwent chemotherapy, she was fed food through an IV drip and she had lost a lot of weight."
The chemotherapy, frequently used to treat critical cases of tuberculosis, had sapped her completely and became the cause of her acute undernourishment.
A selfie of Koltsova taken few days before her death, showed her hollow cheek and gaunt face and short hair that she had during her last days.
Koltsova passed away in Kiev on July 25 and was buried two days later. Tributes poured in for her and she was being called the 'irreplaceable' woman.
She was a well-known police officer in the Ukrainian capital, especially after the photos of her good looks started spreading across social media.
'This is an irreplaceable loss for the whole of Kiev police, fond memories of Arina will remain in our hearts forever,' Koltsova's police department wrote on its social media page.
One of Koltsova's friends also mentioned that she always had a dream of doing something for her country and her enlisting in the police force was a decision she made consciously as she wanted to bring about positive change and make things better in the society.
Tuberculosis can be treated by taking antibiotics for six to twelve months according to the National Institutes of Health. Some of the cases can be drug-resistant and cannot be treated easily.
It is not clear as to the type of tuberculosis Koltsova suffered from or if she could not be saved because she was not diagnosed fast enough for successful treatment.
It is not confirmed if the man, who spat in her face, was charged and held on trial.
Please fill in your e-mail so we can share with you our top stories!