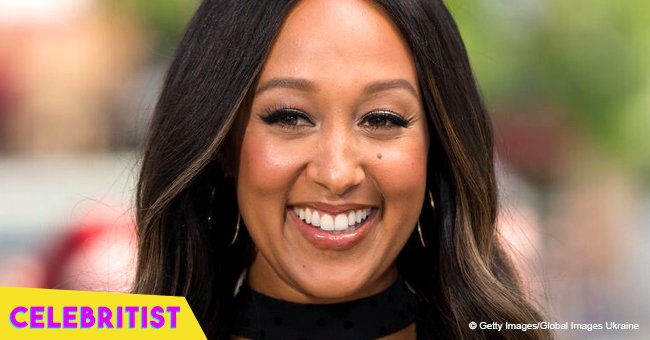 Tamera Mowry stuns in blue dress and hat while playing with her 2 kids in Portugal
The actress and reality television star and her twin sister where a popular duo together, but today both siblings have two children of their own, and looking absolutely stunning as mothers as well.
40-year-old Tamera Mowry is a mother to 5-year-old son Aden John Tanner Housley and 3-year-old daughter Ariah Talea Housley, who she shares with her husband, Adam Housley.
Recently, the proud mom took to her Instagram account to share a sweet photo of herself and her children relaxing on a patch of grass while away on vacation in Portugal.
While she sat cross-legged, her daughter sat in her lap and her son lay with his head on her knee.
"In heaven. In love with Portugal and in love with my babies Photo by @adamhousley," she captioned the lovely image.
Mowry was wearing a black button-down navy blue blouse with ruffled sleeves and collar. She wore a matching pair of pants, and she had a pair of red pumps on. She also wore a wide-brimmed straw hat with a black band around it.
Her daughter had a white and black polka dot dress on, with a pair of white sneakers. Aden wore a navy blue t-shirt, and a light blue pair of denim shorts.
All three of them had big grins on their faces as Mowry held onto her precious babies. Although her face was mostly hidden, her mouth could be seen with red lipstick on her lips and a content smile.
Another shot from the same day included Housley. He joined his wife and daughters on the lawn, taking a hold of Aden while Ariah stayed on her mother's lap.
Housley had on a light blue t-shirt, and a pair of dark blue shorts. He also had a pair of black and white sneakers on.
"A few more from #evoraportugal which is such a beautiful city in the heart of the country. #thehousleys #portugal #travfam #portugalvacation," he captioned the happy image.
More family vacation photos saw the couple showing the little ones all the sights in Portugal.
Before they embarked on their vacation, they took care of their winery business in Napa Valley, and then Mowry took to social media to remind her fans to step away from the grind every now and again.
"Sometimes it's important to unplug. To focus on the present, your family, meditate, and align yourself spiritually. I love you guys. I'm so grateful for the community we have created. I encourage you all to do the same. I'll be back." she wrote.
For the most part, Mowry stayed off social media while on vacation, with Housley taking up the responsibility of keeping the actress' fans in the loop of their travels.
Please fill in your e-mail so we can share with you our top stories!