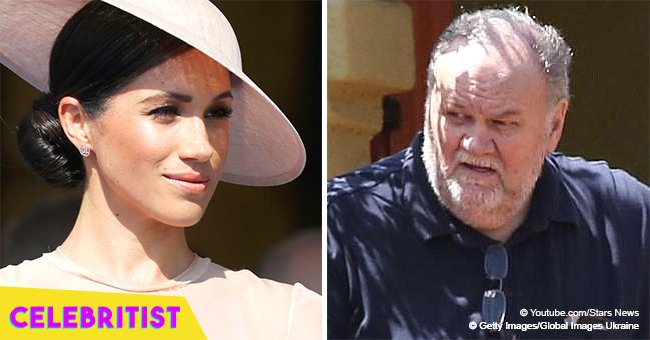 Meghan Markle's father slams daughter & claims she has cut him off out of her life
Thomas Markle reveals that his daughter Meghan has decided to cut him off for good, and he fears that he may never see his grandchildren with the Royal couple.
Last Sunday, Mr. Markle himself made the claim to The Daily Mail UK that Meghan has painfully cut him off of her life, and that he has not spoken to her daughter in ten weeks. According to him, this rift was caused by him staging fake paparazzi pictures before the wedding and speaking out in his own defense.
"I'm really hurt that she's cut me off completely. I used to have a phone number and text number for her personal aides at the Palace, but after I said a few critical words about the Royal Family changing Meghan, they cut me off."
Thomas adds that the numbers he used to have to continue being in contact with his daughter have been disconnected, and he has no way of contacting his daughter. Given that her birthday is coming up on August 4, he claims that he has no way of greeting his daughter even if he wanted to.
"It's her birthday on August 4 and I want to send her a card. But if I send a birthday card to Kensington Palace, or wherever she's living now, it'll just be one among thousands. She'll probably never see it. I thought about sending it by Priority Mail Express, but the Palace would probably just soak it in water for three days to make sure it doesn't explode."
In an interview with The Mail on Sunday, he spoke for almost nine hours in three days just to share how he felt about his long feud with his daughter, saying that although the Royal Family obviously wants him to stay away from the press, he won't. While he is often soft-spoken, he is also brutally honest. He answers the questions asked thoughtfully, shifting between two emotions of sadness at the "loss" of his daughter and anger at the "way he is being treated" by the Royal Family.
At 74-years-old, he has a case of bad knees and arthritis, alongside some heart problems that were the reasons why he could not attend his own daughter's wedding.
"It's lucky I'm still alive. The men in my family rarely live over 80 so I'd be surprised if I had another ten years. I could die tomorrow. It wouldn't be so bad. I have something of a Buddhist philosophy about death. Perhaps it would be easier for Meghan if I died. Everybody would be filled with sympathy for her. But I hope we reconcile. I'd hate to die without speaking to Meghan again."
Thomas Markle worked as an Emmy-award winning lighting director on hit US TV shows such as "General Hospital" and "Married With Children" before retiring to Mexico. Although he hopes his daughter would reach out to him soon, given the number of interviews he has given out talking bitterly about her and the rest of the Royal Family, that might take a while.
Please fill in your e-mail so we can share with you our top stories!