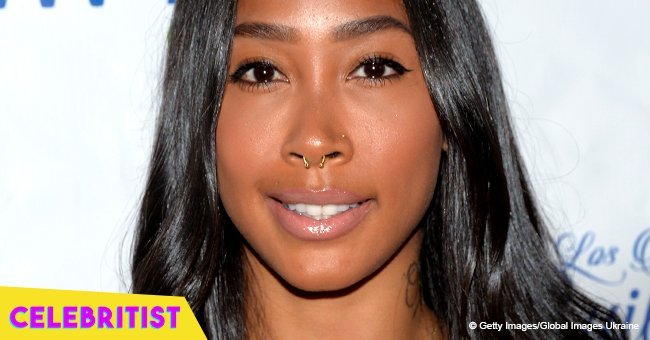 Omarion's ex Apryl Jones flaunts major legs & curves in revealing, blue mini dress

After going on a rant spree about her ex-boyfriend a few months back, Apryl Jones is finally back on her feet, attending events in the latest trends. Recently, she sported a blue denim mini dress while promoting a fashion brand, flaunting her curves and long legs while at it.
Back in March, Apryl made sure to let Omarion know that she was not happy with what he was doing. On Twitter, she insinuated that she was having some trouble with her immature baby daddy, as she has had both their children for a month straight while working overtime to provide for them, while Omarion has been showing zero compassion for her or the children by not showing up when he's supposed to.
It has been exactly two years since the reality TV star and her ex-boyfriend broke up, but prior to her rant session, Essence claims that fans were still praying for them to end up together. In a video, the former "Love and Hip-Hop Hollywood" member made sure to set the record straight as to why they cannot be a couple anymore, and why they are not getting back together either.
"No, let me ask you a question, Munchy, no why would you want me to get back with Omarion? What would make you tell me that? Did you know my relationship? Cause if you did, you'd probably be like, 'RUN!'"
According to Jones, the major reason for their breakup was for self-love. She asked fans to stop asking them to get back together, because there is a reason as to why they broke up, and it didn't happen for no reason.
"If I wanted to be with somebody then I would be with somebody and if I don't, I'm not. And I, I'm just not in that space. You know, as women, as human beings, we gotta honor ourselves. I'm honoring myself. I'm honoring myself. I'd rather be [expletive] by myself for the rest of my life than ever be in a relationship if that is not allowing me to flourish."
Now, Apryl has been showing off her covetable beauty on Instagram, making sure to show her fans that self-love does wonders for a woman. In her latest post, she flaunts her curvy body physique and long legs in a denim mini dress that also showed off her cleavage. Her post was in promotion of an online store's latest collection.
Prior to their July 2016 split, they welcomed two children together, a son named Megaa, and a daughter named A'Mei.
Please fill in your e-mail so we can share with you our top stories!