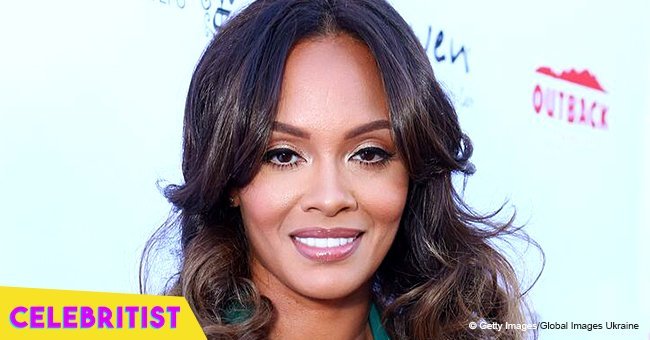 Evelyn Lozada, 42, flaunts her abs in skimpy, white bikini, leaving nothing to the imagination

Fitness buff Evelyn Lozada showcases "brick" abs as she poses in a white bikini and fashions kinky curls.
Evelyn Lozada is a fitness buff whose recent bikini photo proves that. The 'Basketball Wives' star didn't just showcase her enviable curves in her skimpy suit, but she also flaunts some serious abs, never mind that the real reason for her post is a hair product she's promoting.
As one first catches a glimpse of Evelyn's photo where she dons a white bikini, her shiny kinky hair stands out. But the fascination for Evelyn's curls is quickly overshadowed by her bikini-clad body which leaves nothing to the imagination and her impressive abs, like bricks lining her stomach.
Evelyn stands on the sidelines of a swimming pool in the pic as she holds on to strands of her curly hair with one hand while carrying a bottle of a hair product she promotes in her caption in another.
"I know @Mahisha_Dellingersaid her new @Curls#cashmereandcaviarcollection line was for kinky curly hair...but I couldn't resist!!! My curls last much longer when I use this product and its very moisturizing. #notfortheaveragecurly #target #curls"
Evelyn casually leans on the ledge of the swimming pool providing a view of her toned body, full hips and yes, those glorious abs. The reality star clearly has her fitness routine in check as her body shows. See for yourself.
It's no secret the 42-year-old has been on a strict fitness regimen consisting of an organic diet and a seven-day workout routine which helped her lose the weight she gained after undergoing hormone treatments for in-vitro fertilization. That was when she was still engaged to Major League Baseball star Carl Crawford. When that engagement was called off in 2017 along with her in-vitro plans, she found solace in weight training to get her back in shape.
Evelyn would often post selfies during her workout sessions inspiring her 3.5 million followers with her progress and dedication. It didn't take long before she got her pre-in-vitro body back to the amazement of her fans.
It can be recalled she also lost 32 to 40 pounds in seven weeks back in 2014, after giving birth to her son Carl Leo Crawford.
Please fill in your e-mail so we can share with you our top stories!