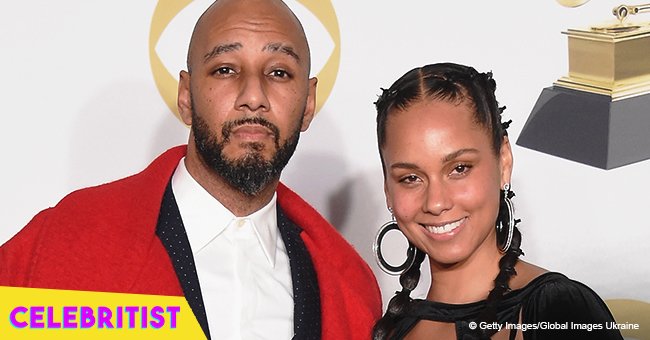 Swizz Beatz & Alicia Keys flaunt their love in emotional posts on their 8th wedding anniversary
Rapper Kasseem Dean, best known as Swizz Beatz, took to Instagram to share several photos showing himself and his wife Alicia Keys on their wedding anniversary.
One of them portrayed the couple sitting on what appeared to be a boat while enjoying a cup of wine and posing for the camera. Alicia put on tiny denim shorts and a white blouse while Swizz chose white pants and a grey shirt left almost completely undone.
In the caption, the rapper and producer admitted that the picture was taken during their 1st anniversary and that he looked 'crazy as hell,' but that Alicia looked 'great as always.'
He finished his post by adding the hashtags 'Happy Anniversary' and '8.' The second post that Swizz shared was a collage with different photos of the couple.
It portrayed them posing in front of two cars; in front of a big, rounded sculpture; and rocking a vintage style. Swizz captioned it writing that it's been eight years of growth, love, parenting, and endless learning. He finished writing that time moves fast.
The third and final collage shared by the rapper showcased him and Alicia during other activities and photo shoots. Even though it's been eight years since they got married, they have not changed that much.
Swizz was not the only member of the Dean family who took to social media to honor their wedding anniversary as Alicia uploaded a slideshow with four images of the couple having fun.
The first one portrayed Swizz wearing a bright blue suit with a black shirt and a big necklace while hugging Alicia, who put on a black blouse and a black and orange skirt.
In the rest of the pictures, both musicians were shown posing in front of a vintage yellow car. In the background, there was a wall filled with sunflowers that gave the image a gorgeous touch.
'Cheers to 8 year [sic] my love!!!! WOW! US! This LOVE!!! So amazing!! So infinite! So powerful! So electric!! It's been the best 8 years of my LIFE!! I can only imagine the greatness the future holds!!' wrote Alicia in the caption.
She thanked Swizz for teaching her what life, love, and dreams were in infinite and endless awe and love.
Please fill in your e-mail so we can share with you our top stories!