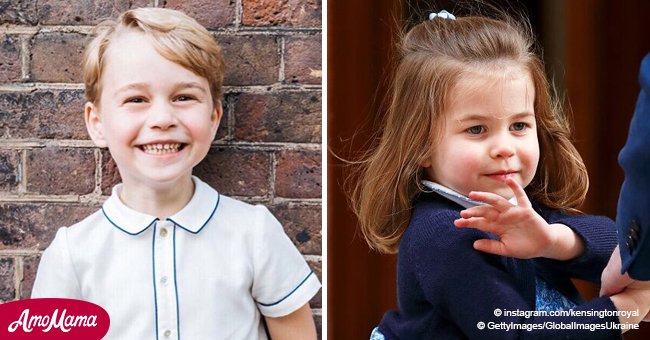 Hello: Here's why Prince George has to bow to the Queen, but not Princess Charlotte

When will Prince George and Princess Charlotte be expected to bow and curtsey to the Queen?
The British Court is ruled by strict protocol. Who walks first, and who walks how many steps behind - the rules of precedent have been cast in stone for centuries.
So what are the rules pertaining the tiniest of the Royals? We've all seen Prince Charles, his wife, his sons, and their Duchesses bow and curtsey to the Queen to show their reverence and respect.
So far, Prince George and Princess Charlotte haven't been expected to do the ritual genuflection to their Royal Great-Grandmother, but historian Marlene Eilers Koenig, revealed to Hello Magazine on the 27th of July 2018, that it will soon be time for the toddlers to start practicing.
"Certainly by age five. The only person they will be curtsy or bow to is the sovereign. A royal highness does not curtsy to another royal highness. Yes, there are articles that state this, but it is not true."
Marlene Eilers Koenig, Hello Magazine, 27th of July 2018
Koenig explained that curtseying and bowing is etiquette. The rule is that a subject will bow or curtsy the first time they see the sovereign and then again when they leave.
She exemplifies by pointing out that at Christmas at church, the Dukes Cambridge, Prince Harry, and Duchess Meghan curtsied and bowed when the Queen arrived and left; whereas Prince Charles did not because he had come from Sandringham and had already seen the Queen.
Read more about the Royal Family on our Twitter account @amomama_usa.
Royal children are expected to be courteous and respectful to their elders, and soon both will be at an age where they will be expected to obey the Royal etiquette.
They are usually expected to make their obeyance to the monarch around the age of 5, so Prince George will be bowing to her Majesty before Charlotte.
Their cousin, Princess Eugenie, first curtsied to the Queen Mother when she was seven but precocious Princess Charlotte, 3, curtsied to diplomats gracefully in Poland, at a hint from Duchess Kate.
Since Prince George's birthday on July 22nd, Royal watchers have been eagerly waiting to capture a snap of the future King's first public bow to his Royal great-grandmother.
These royal kids are adorable! Watch this video to find out their cutest moments!
Please fill in your e-mail so we can share with you our top stories!