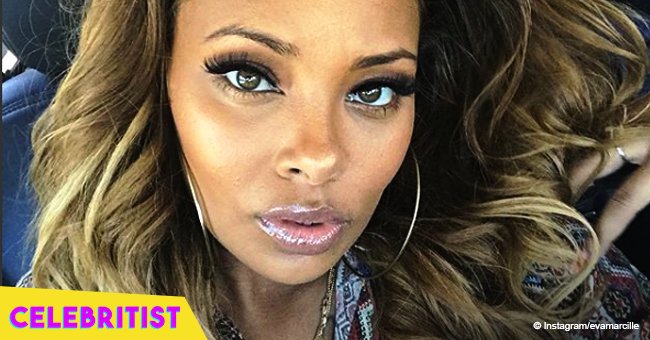 Eva Marcille reveals newborn son's face for the first time in his 'online debut'

Finally, Eva Marcille shares a photo of her son with his face showing. The new mom who delivered her first child with fiance Michael Sterling five months ago released a family photo featuring little Michael stealing hearts with his smile.
Eva Marcille has just posted an adorable family photo which also debuts her son Michael in the online community.
The reality star took to her Instagram on Tuesday to share the first glimpse of her 5-month-old toddler as he's joined by the rest of his family in a coordinated snap. The family of four was dressed in denim for the milestone pic which comes months after little Michael's birth on April 13.
Eva glowed as she smiled holding on to her little boy while her fiancé Michael Sterling straddled Eva's daughter Marley Rae from a previous relationship.
"Our tribe", the 33-year-old proudly wrote in her caption as she reveals @joecarlosphotography snapped "Mikey's online debut."
Since welcoming her son, Eva has been careful about sharing photos of him. She would feature glimpses of the little one but never his face. The first time she posted a photo of Michael was a month after he was born. He was lying on his stomach on top of his mother's chest with the back of his head facing the camera.
Eva announced her pregnancy in November with cute photos of the then family-of-three having tea. Speaking to People about it, she recalled asking Marley if she wanted to have a little brother or sister. The little girl said she did and even requested for a baby brother.
"I thought that was adorable, but at the time, I had no idea what I was having, so my fear [about] this extremely expressive and outgoing young girl [was] if this baby came out to be a little girl, that might not be a great situation for Marley.
"However, I found out soon after that I was having a boy, and I felt like she willed it in her favor. I'm beyond elated to be having a boy."
Marley, 4, is Eva's daughter with her ex, Kevin McCall. The 'Real Housewives of Atlanta' star was engaged to Michael, a lawyer during the Christmas holidays. Of naming their son after his father, Eva said,
"We have a junior, which is kind of terrifying to me because Michael is the most ambitious person I've ever met. So for our son to now have to live up to his dad, it lets me know that there is a great promise on his life, but it's also terrifying because he has so much to live up to."
Please fill in your e-mail so we can share with you our top stories!