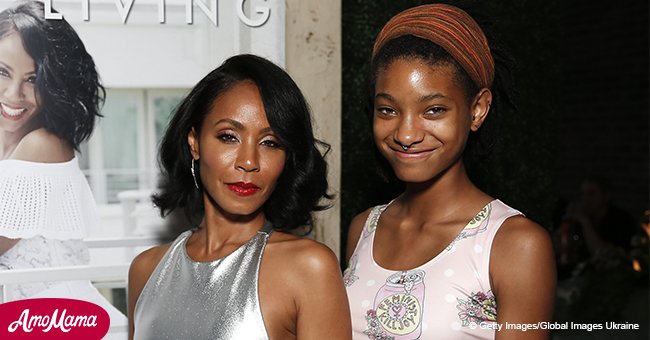 Jada Pinkett Smith opens up what surprise she and daughter Willow have prepared for Will Smith

Jada Pinkett Smith and Willow are working on a song for Will Smith.
In a recent interview with Billboard, Jada revealed that she's releasing a new song with her daughter Willow called "Dear Father".
Responding to a question about plans to release more music with her metal band Wicked Wisdom, she said, "I actually have a song with Willow that we did together. It's called 'Dear Father' and we are still working on it. But it's pretty dope. Willow has always wanted to do some stuff with me."
Follow us on our Twitter account @amomama_usa to learn more.
Jada, who began her career with a guest appearance on the short-lived sitcom True Colors in 1990, said that she's working on a handful of songs with Willow.
"She grew up with Wicked Wisdom on tour, so it's always been her dream to play with the band and play with me on stage," she told Billboard. "It's really fun. So we're thinking about doing four songs or something."
Jada didn't specify when fans can expect to hear their song. The collaboration will be Willow's first release since her album The 1st in 2017.
Jada also talked about the changing reality of the music industry.
"It's so loud and it's so busy," she said. "There is so much traffic in regards to everybody [wanting] to make music and be musical stars of some kind. I think the thing that I figured out with my kids' experiences is that you have a lot of people who can get in and they can start with a gimmick, but that won't last you."
"So I've always told my kids you have to have a movement, a belief of something that people can feel like they can devote themselves to. Just like when you think about the Grateful Dead or if you think about the Rolling Stones. Musicians or groups had movements of some kind. It wasn't a gimmick."
Jada met Will in 1994 on the set of his television show The Fresh Prince of Bel-Air. They started dating in 1995 and tied the knot on December 31, 1997.
Please fill in your e-mail so we can share with you our top stories!