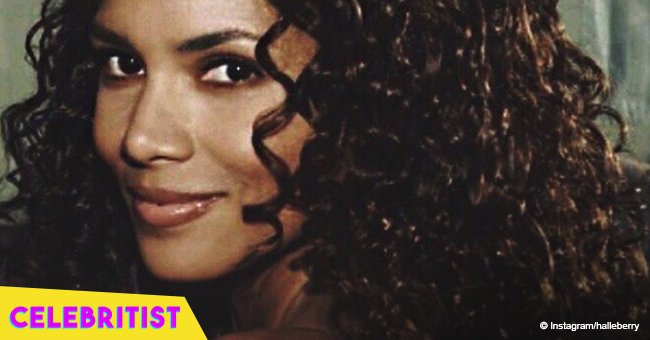 Halle Berry melts hearts in new photo, cuddling with her sleeping buddy
Halle Berry is single but it doesn't mean she's alone. The actress pointed out this fact on her latest post where she also reveals who's keeping her company in bed at night.
Halle Berry swore she's done with love after her last failed romance. But as much as she's single, the Hollywood A-lister insists she doesn't sleep alone. She took to her Instagram to give fans a glimpse of her buddy who keeps her company at night. Cuddling next to her on her bed in the photo she shared is her furry dog as she's fast asleep. The mom-of-two who proudly revealed her current sleeping condition informed her followers of one important detail about her life right now in her caption,
"Just because I'm single... doesn't mean I sleep alone!"
Halle surprised the world in December when she posted a photo declaring she was "done with love." Later reports confirmed she had broken up with her boyfriend Alex Da Kid after a short-lived relationship that was only confirmed in September. The private couple were first spotted together in Beverly Hills in July and weeks before they split, they went on vacation to Bora Bora. The romance reportedly fizzled shortly after they returned with Halle deciding to pull the plug on their three-month run.
Just days after Halle alluded to being single again, Alex was spotted in the company of another woman, singer Estrella Nouri. Witnesses at the scene described them as looking like a couple which would probably explain why Halle declared herself free.
Alex, whose real name is Alexander Grant was Halle's first major relationship after she split from her third husband, Olivier Martinez with whom she has a four-year-old son. Halle is also a mother to nine-year-old Nahla who's the daughter of her other ex, Gabriel Aubry.
Now that she's single, tabloids are looking to match her up again. The latest is her 'John Wick' co-star Keanu Reeves who was rumored to be dating her. However, Gossip Cop debunked the rumor deeming it impossible for the two to have fallen in love on the set given the time frame. The movie had only been in production for one day when the news broke which makes it highly unlikely that they already fell in love in that short span of time.
With Halle's latest post, that issue should be put to rest. She is single and sleeps with her dog. That's the only truth fans should believe.
Please fill in your e-mail so we can share with you our top stories!