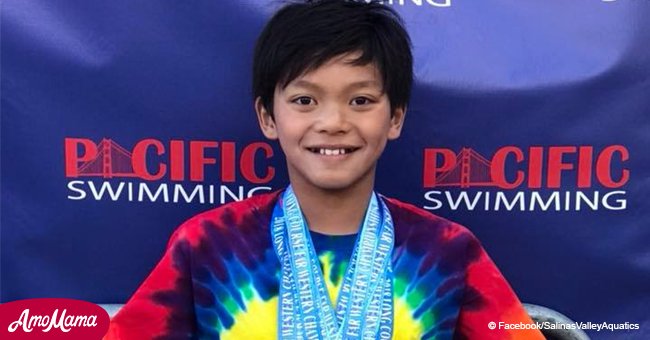 10-year-old boy beats American Olympic swimmer Michael Phelps' record
Nicknamed Superman, the boy is skilled at swimming, martial arts, music and more.
With the multiple skill sets that he has developed, it may seem that 10-year-old Clark Kent was indeed named after Superman.
Most recently, the boy made news after breaking the record that swimming champion Michael Phelps had held for over 2 decades, as shared by Salinas Aquatic Center MCAT.
In 1995, Phelps set a world record in the 100-meter butterfly category, which was unbroken for 23 years. In the years that followed, Phelps earned a number of accolades, including a total of 28 medals at the Olympics.
But reported by CNN, young Clark managed to create history by completing the 100-meter butterfly within a record time of 1:09:38. He beat the seasoned swimming champion with an experience of merely 4 years of competing in the sport.
Read more about record-breaking athletes on our Twitter account @amomama_usa.
Clark's coach, Dia Riana revealed that Clark is not like the any of the other children she has trained. She added that he was consistently ahead of the competition, and was already like an expert at his current tender age.
Clark's talents are not confined to the pool. He is also known to be a budding pianist, a martial arts enthusiast and much more.
The boy's proud father, Chris Apuada, shared the Clark would also take every opportunity to attend niche courses in school including coding and STEM programs.
Even with all these interests to nurture, Clark seems to be at peace. Speaking to CNN, he stated that he could effortlessly pursue all his passions by learning to strike a good balance between them.
Expressing his love for the aquatic sport, Clark stated that his parents and coaches played a major role in supporting him, which helped him enjoy swimming more.
As a note of inspiration for anyone who wished to realize their true potential, the young boy's message was to dream big, stay focused and not leave the fun out of it.
Please fill in your e-mail so we can share with you our top stories!