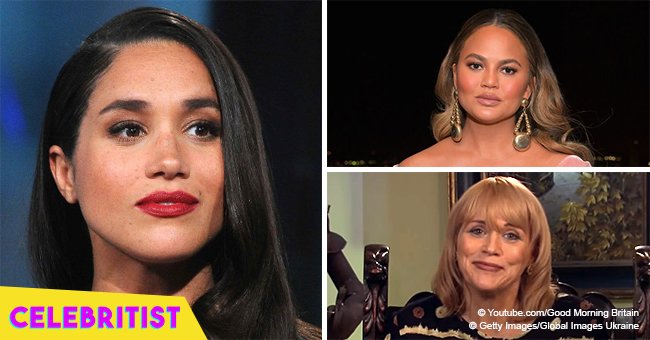 Meghan Markle's sister furiously fires back after Chrissy Teigen dragged their father in a post
A new figure has been dragged into the Markle family drama. Chrissy Teigen was the subject of Samantha Markle's latest scathing tweet after the outspoken supermodel mom expressed an opinion about Thomas Markle.
Amid all the drama involving Meghan Markle and her outspoken, fire-spewing half-sister Samantha Markle, along with their father Thomas Markle's love-hate relationship with the press, here comes Chrissy Teigen who gets dragged into the fold.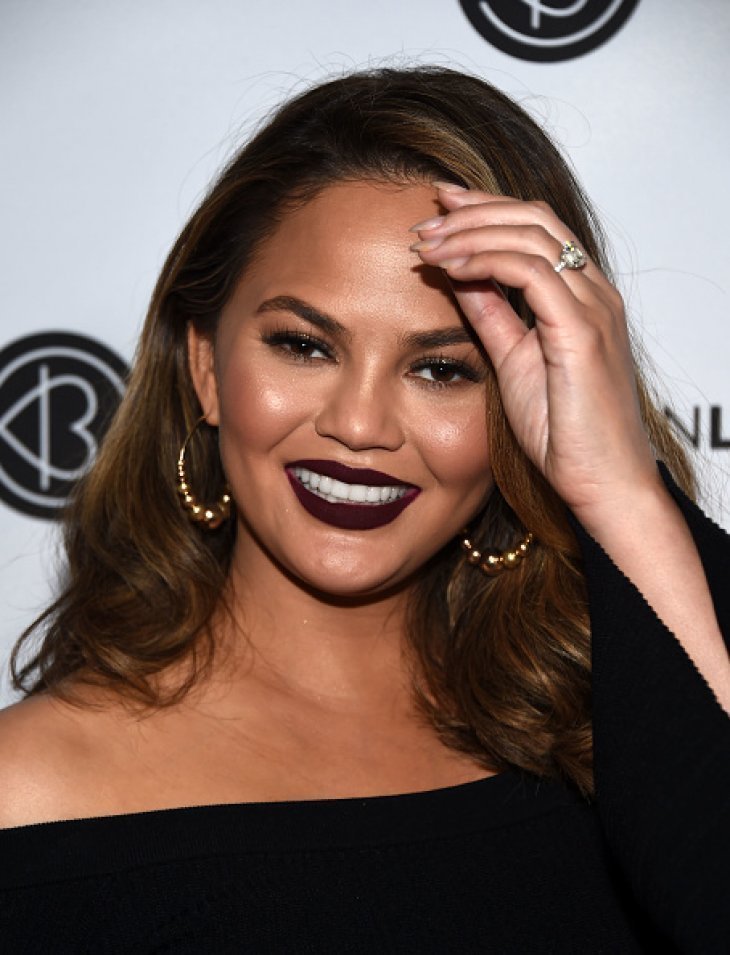 Source: Getty Images
Samantha recently clapped back at the model and body shamed her in the process as she defended her father from Chrissy's tweet about him.
It all began with Thomas' latest interview with The Daily Mail where he basically slams his daughter Meghan for shunning him since her wedding to Prince Harry. Having read the interview, Chrissy tweeted her dismay.
"This guy… this guy sucks. What is wrong with him? Let your daughter be happy, please. This is embarrassing."
Rushing to her father's defense as she always does, Samantha retaliated by (privately) tweeting this scathing message referring to the wife of John Legend as a "pudgy airhead." Notice that she also didn't get Chrissy's name right.
"So this pudgy airhead @Christinetiegen who knows nobody in the family is opening her pie hole? 'This guy' is our father and deserves a lot of respect. You are the one who sucks."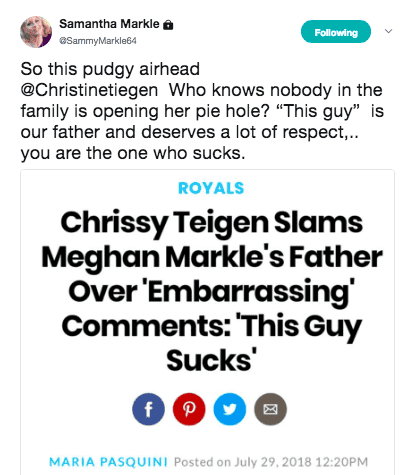 Source: Twitter
It's been a busy few weeks for Samantha who's been headlining the news for her persistent jabs at her half-sister. She practically admitted to 'Good Morning Britain' recently that she's been cashing in on all the media mileage brought about by her sister's popularity.
"Let's face it — we all have to survive. Money makes the world go round, so if you want to call that cashing in, that's fine, but I think no one in media would refuse a paycheck for talking about the royal and, as a family, we're not subject to royal protocol. Why would I stop living because we have a family issue going on?"
It can be recalled it was Samantha who arranged for the controversial paparazzi photos of her father prior to the royal wedding. The whole fiasco led to Thomas' estrangement to his daughter. And while Thomas has been recently pleading to see and speak to Meghan after the wedding he missed due to a heart attack, Samantha has continued to slam her sister for leaving out their father. She even held her responsible for the eventuality of his death.
Meanwhile, Chrissy hasn't responded to Samantha's attack. She's currently vacationing in Bali with her husband and their two children.
Please fill in your e-mail so we can share with you our top stories!