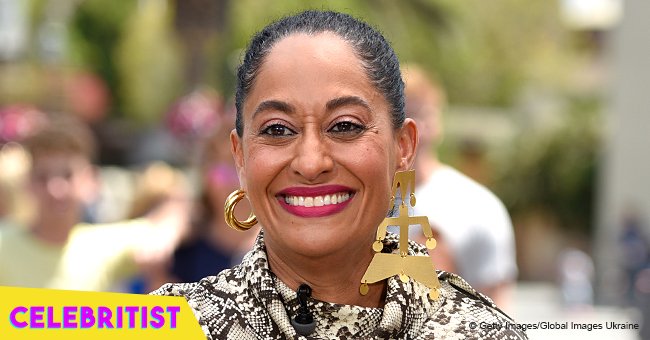 Tracee Ellis Ross turns all heads in sheer floral outfit for Elle Canada in recent pic
Tracee Ellis Ross is about to be the latest cover girl of Elle Canada, and she stunned in a series of outfits to be featured on the magazine.
As previously shared on Celebrity Insider, the "Black-ish" star somehow manages to live a carefree life as she has been showing on her social media accounts, and although she often gives insights on the facets of society that are systematically flawed, her life seems to be troublefree. In the past few weeks, she has been sharing some summer photos on her vacation in France that proved she was living the life.
Now, Ross took part in a photo shoot to be the cover of Elle Canada's September issue, and her contagious happy aura is yet again seen. As if her pleasing personality and general style choices weren't enough, the editorial is filled with colorful and interesting clothing pieces that definitely made it such a beautiful issue.
As for her cover interview, Ross shared some intelligent insight regarding the topics at hand, which included aging and of course, her famous mother.
Tracee has always been fond of sharing some beauty tips and tricks to eliminate wrinkles and sagging skin on her Instagram stories. However, the model decided to keep it real with Elle and face reality as well.
"I don't want to feel like I'm a hostage to an Instagram version of myself. My belief is that all these lines on my face and neck and the softness in my legs and body are evidence of a life lived.
The 45-year-old credits her mother for how she feels about fashion and age, given that she grew up having her as the ultimate role model. When you have Diana Ross as your mother, we're quite sure you would learn a thing or two about fashion, beauty, and the entertainment industry in general.
Regarding her mother, Tracee shares that instead of living in her mom's shadow, she and the rest of her siblings actually lived in her embrace. This testament just proves how wonderful the legend Diana Ross is, as she was able to instill such wonderful characters to all of her children, including Tracee Ellis Ross.
Please fill in your e-mail so we can share with you our top stories!