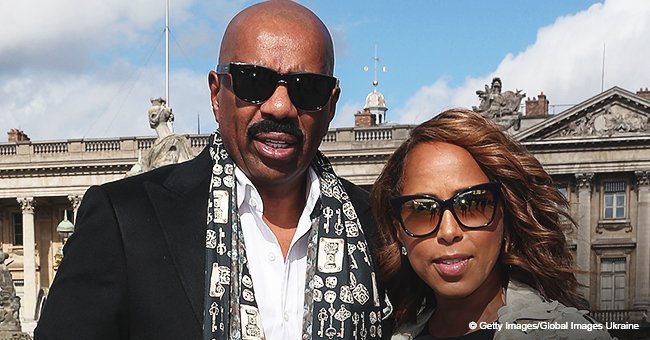 Steve Harvey debuts gray beard posing with wife Marjorie in video from their vacation
The popular game and talk show host has been married for over a decade, and decided that he and his wife should celebrate in a special way this year as the rumor mill began turning.
In mid-July, Steve Harvey and his wife Marjorie Harvey jetted off together on an exotic vacation. Marjorie shared a video taken from a boat that revealed the comedian's graying beard and the fun and silly personality of Marjorie.
Steve and Marjorie Harvey just celebrated 11 years of wedded bliss back in June, and it seems they're still making a honeymoon out of their most recent vacation amid rumors of an impending divorce.
The apparently happy couple took to traveling through Italy and France, and shared plenty of photos of their time there. Marjorie wishedd her fans a "Happy Bastille Day" on July 14 and revealed the relaxed-looking couple posing in front of a resort.
Just a few days ago, Marjorie shared a video her husband took of her while they sailed on a boat, revealing how much fun they still have together.
As Steve pointed the camera at her, she started dancing around the boat prompting her husband to jokingly comment:
"Now see, this was supposed to be a spiritual video but I live with a person who has a mental problem and she crazy. So right here, this is as soulless, foolish she can get right here. I'm married to that kind of lady right there. This is our whole problem right here."
As Steve mocked his wife, she continued to prance around the boat while trying to stay serious but ends up laughing in the end.
Marjorie then moved back towards her husband as the camera panned to the two of them. The image revealed that the popular television personality has a greying beard. The spouses leaned towards each other for a kiss at the end.
The couple's recent trip is proof that their marriage isn't on the rocks as recent rumors have been suggesting.
An earlier report by Radar Online speculated that they were headed for a $400 million divorce after Steve allegedly met with Kris Jenner in a closed-door meeting.
According to the report, Marjorie felt her husband was too close to the Kardashian momager, and threatened to divorce her husband.
But there doesn't seem to be any truth to that story seeing the many photos that Marjorie has been sharing from their trip. If anything, those rumors may have just solidified the couple's relationship even more.
It was just days after the rumors that she took to her Instagram stories to share a photo of herself boarding a plane as they jetted away on their vacation. Steve took to his own Instagram account to share the image as well.
For their actual anniversary, Steve and Marjorie decided to have a photoshoot for their anniversary, and the image they shared showed them on a sandy pathway overlooking a beautiful cliffside and the ocean's waves crashing below.
Steve wore a powder blue suit with a matching waistcoat and a white button-down shirt for the occasion, with a pair of white shoes.
Meanwhile Marjorie went with a monochrome look, opting for a short black dress with three-quarter sleeves with puffy ends. She also wore hooped earrings, and a pair of Yves Saint Laurent strappy heels with feathers on her ankles.
They also took photos on the small beach itself, with the talk show host's wife opting to keep her expensive shoes on as she wandered onto the sand with her heels sinking away.
Whether or not the couples intention to rebuff the divorce rumors, most seem to have faded away following their happy travels together in the past month.
Shortly after their private trip as a couple, they were joined by their blended family in Capri, Italy, where their children were happy to soak up some sunshine with them.
Please fill in your e-mail so we can share with you our top stories!