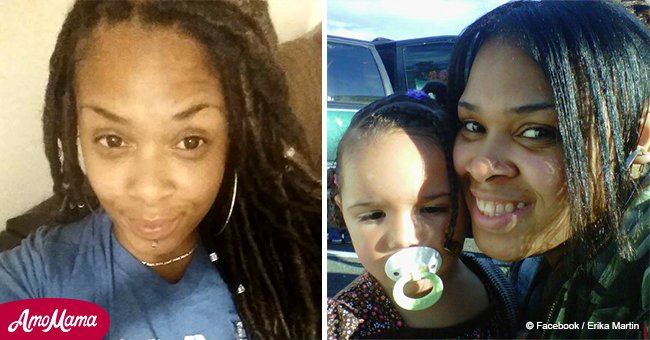 Grocery store calls police on black woman feeding homeless person

Erika Martin was in the parking lot of a supermarket in California giving a homeless man food for his dog when two police cars stopped by her.
Employees at the supermarket, it turned out, called the cops, accusing Martin, a black woman, and her family of being involved in an alleged grocery heist.
Martin shared about her experience in a Facebook post dated July 9, 2018.
Follow us on our Twitter account @amomama_usa to learn more.
"I was accused of stealing from Safeway when I never got out of my car. I never stepped foot inside of Safeway. I was there to bring a homeless man a bag of dog food for his doggy," she wrote.
She stated that her two sisters were also there giving items to homeless people around the supermarket. The employees told the cops that she fit the description of someone stealing from the store because of the blue spaghetti strap shirt she was wearing.
"This is the type of world we live in you guys. We need to pray because this right here is crazy."
As reported by New York Post, Martin explained to the officers what she was doing.
They asked if she was waiting on someone, like a husband, to exit the store – which she was not. The officer then told Martin someone had been stealing items from the store, and that the suspect was wearing the same top as she was.
"I said, 'What! Wait, are you kidding me?' I never even stepped foot inside of Safeway, I was in my car the whole entire time I was there," she wrote, noting that she was not wearing the spaghetti strap shirt in question.
In a statement mentioned by the New York Post, Safeway denied any racism.
It stated that the police were called concerning an "adult male with a history of suspected shoplifting" at the store. It added that it was "not entirely clear" why the police spoke to Martin.
"Safeway is committed to fostering an environment of treating everyone with courtesy, dignity, and respect. We have strong policies against racial discrimination and we do not tolerate violations to the policy," the statement read.
The statement added that the management had contacted Martin to apologize.
Please fill in your e-mail so we can share with you our top stories!