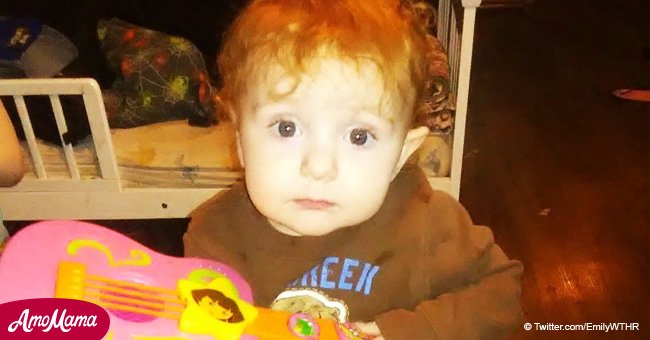 Toddler dies from 'unbelievable' injuries just before her 2nd birthday

An Anderson, Indiana toddler died hours after reaching the hospital, a victim of child abuse
On the 30th of July 2018, Paisley Hudson arrived with her mother, Kayla Hudson, at the Indiana University Riley Hospital for Children in a condition doctors described as 'unresponsive.'
A few hours after being admitted to the hospital, tiny 23-months-old Paisley died. The autopsy was to reveal that the cause of death was a fractured skull, internal bleeding, and countless bruises.
For Marian Dunnichay, the county medical examiner, these injuries were signs of severe physical abuse, revealed People.com.
Dunnichay explained that it took her two hours to count the bruises on the baby's body.
"I've never seen injuries like this on an infant before. There are no words."
Marian Dunnichay, People.com., 2nd of August 2018.
Based on Dunnichay's report, the Police started investigating Paisley's death. They could not yet be sure of how the baby was injured, but they took her 25-year-old mother and her boyfriend, Ryan Ramirez, into custody, on the suspicion of being responsible for her death.
Hudson and Ramirez, 29, were arrested on suspicion of neglect of a dependent resulting in death, a felony, The death is being investigated as a murder.
Read more about Paisley Hudson's case on our Twitter account @amomama_usa.
Indiana Prosecutors have been given a 72-hour extension for further investigation, before formally filing charges. The Police admit there may be additional charges added to the couples' docket.
After Paisley's death, the couple gave the Police differing accounts of had happened that day.
Ramirez admitted that on Friday the 29th of July, Paisley and her older brother were in his care. He stated he had put both the children to bed after fetching Hudson from work.
He said that at 3 a.m. he'd seen Paisley move but by 6 a.m. she appeared to be "cold and lifeless."
Hudson said that after getting home from work Friday night she had left to buy cream and green tea bags to "cover extensive bruising on [her son's] legs and body."
Hudson said she had gone to check on her daughter because the baby hadn't woken up or moved all night.
The couple told detectives that they had found Paisley unresponsive, and had attempted to revive her with a hot bath and CPR.
In an interview with a local station, Hudson said that she placed the blame for her daughter's death squarely on Ramirez' shoulders.
She said that she had been unaware of the abuse "I didn't realize the person I brought into my child's lives." A friend of Hudson's revealed that there had been strong indications of abuse and that the Indiana Department of Child Services had been called on to do a welfare check on the two children.
A group of mothers has been protesting outside the Indiana Department of Child Services. The group protested outside the DCS offices in Anderson expressing their anger and outrage at the Department's failure to protect Paisley Hudson and her brother.
Please fill in your e-mail so we can share with you our top stories!