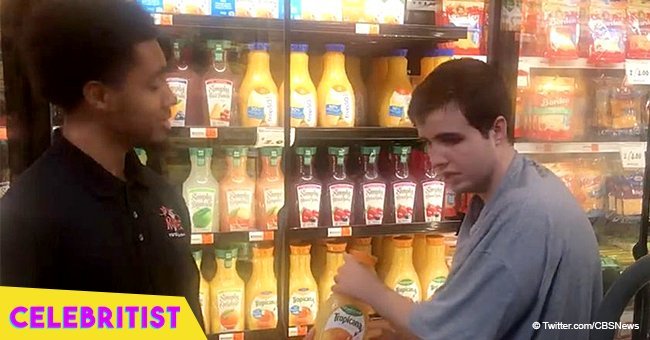 Grocery store employee praised for kind act towards autistic teen
This grocery store employee noticed a teen nearby watching him who seemed fascinated by him restocking the shelves, and decided to make a massive difference in his day with a simple gesture.
Jordan Taylor, an employee at Baton Rouge, Louisiana, grocery store Rouses Market was doing his job as usual on July 29 when he noticed someone nearby was watching him.
17-year-old Jack Ryan Edwards is autistic. Watching Taylor work was soothing him when he visited the grocery store with his father on Sunday.
"Something in the back of my mind was just like, 'Ask if he wants to help you,'" Taylor told CBS News.
What ensued was a wonderful exchange that has made Taylor an unexpected hero in the eyes of everyone who has heard the story.
Taylor asked Edwards if he wanted to help him restock the juices in the refrigerator, and the teen was happy to do so. Edwards' father decided to record the interaction, and later shared it to social media.
Throughout the clip, Taylor handed Edwards the juices from the trolley, and allowed him to place them on the shelves.
Speaking afterwards, Taylor explained that he was just happy that he could make someone else happy, and that he never wouldv'e imagined it would get this much attention.
"It was a miracle for even us to see Jack Ryan do that," Edwards' sister, Delaney Edwards Alwosaibi, told CBS News. "When I started watching [Taylor], that's when I really lost it because there's just not too many like him. He's one of a kind."
Alwosaibi also took the story to social media, where she expressed her gratitude to Taylor for the kind gesture.
"This young man took the time to slow down and allow Jack Ryan to help for over 30 minutes, guiding him as he finished his task," Alwosaibi wrote. "He could have ignored him. He could have made an excuse and said he couldn't allow him to help. Instead, he let him have his moment and in turn gave my family a moment we will never forget."
Taylor's mother, Teresa Taylor, explained that for many it's incredible to see someone in her son's position doing what he did to make Edwards' day, but for people who know him personally, this is par for the course.
"I wasn't surprised because that's how he's always been, that's always been his nature. But I was extremely proud. Really, really proud," she said.
Taylor lives by just one simple rule in life, and that's to help people whenever he can. He also told Edwards' father that he's not currently in school, but hopes to go back one day.
As a result, a GoFundMe page has been set up for the generous young man in order to help him realize his dream of finishing his education.
Please fill in your e-mail so we can share with you our top stories!