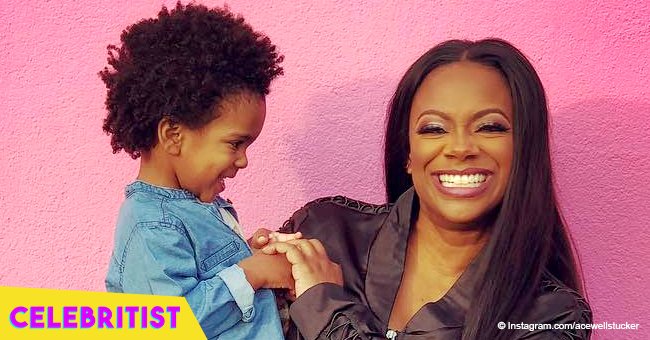 Kandi Burruss gets dragged after sharing video of son Ace having fun in the car
Proud mom Kandi Burruss just shared another video of her son's singing skills but she gets slammed for neglecting one important thing.
When you're a celebrity, even a cute moment can turn on you and drag you down. That's exactly what happened to Kandi Burruss who was mommy-shamed by fans after she shared a video of her son adorably singing.
Ace Tucker, Kandi's 2-year-old was showcasing his singing skills in a video his proud mother shared. He was apparently in a car ride with Kandi's friend when he broke into son. The little boy was at the back seat of the vehicle strapped to a car seat while singing Lil Duval's song 'Smile B***h.' He seemed to be in good spirits as he even lifted his arms in the air while belting out the tune.
His delighted mother who shared the candid moment to her fans on Instagram wrote this message in her caption.
Meanwhile, as fans tried to appreciate Ace's singing talent, many opted to focus on the seat belt that's strapped to him. A debate ensued in Kandi's comments section on whether the safety belt was strapped on properly or not.
One fan pointed this out first and even advised Kandi to value safety first before laughing emojis.
"Yeah, the boy isn't buckled in that seat right. They wreck @kandi he's ejected. Better teach them how to adjust those straps appropriately. I mention the people I tagged like Kandi his mom or dad…I would think Safety is first before smiling and laughing with the emojis I can't believe @kandi didn't Notice it first and have her Friend remove the video…..but I said my point enjoy your day."
Another mother agreed but tried to defend Kandi.
"He's strapped incorrectly in the car seat the self-belt is an added protection been that it's ALREADY anchored in! No, it's not car seats come for both forward and backward facing! I have a 2-year-old, and I'm 100% positive. If he is I'm sure the parents are aware of that already. No need to point it out. That's rude."
But another commenter insisted the straps were loosely strapped.
"It may be anchored from behind but the straps are loose, and he would come right out in a collision. He is not buckled in the right. Looks like a teaching moment for whoever has him.GIRL. Seat not buckled in the right way, straps lose, chest clip low. I would have been cursing my friend out for transporting my baby like that."
The comments section is now flooded with comments, unfortunately not about Ace's talent but his seatbelt.
This is not the first time Kandi has exhibited a talent of her son. In June, she shared a video of Ace learning to count in Mandarin as part of his education in an international school. At 2, Ace impressed fans while Kandi earned their respect for providing her son avenues to learn more than the usual.
"See this is the level of parenting and innovative forward thinking that every parent should be constantly striving towards Ace is already ahead of the game and he's too young to even comprehend why."
"It's the most difficult language to learn. I moved to Taiwan 5 months ago and I am still struggling. Big ups to Ace."
However, there were those who still found fault in Kandi's choice of language and wondered why she didn't teach him an African language instead.
"Very smart idea but why not an African language to someday communicate with our peoplewho need a lot of help understanding that white people are evil devils and are not to be trusted and we need to regain our empire."
Kandi has not responded to any of the comments from either of the posts.
Please fill in your e-mail so we can share with you our top stories!