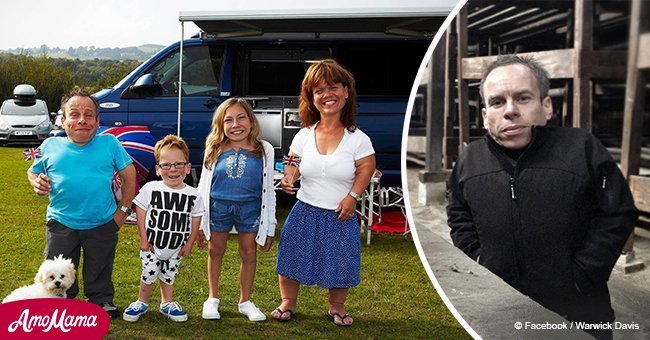 'Star Wars' actor Warwick Davis opens up about heartbreak of losing two kids
Warwick Davis described the painful experience his wife endured after losing their two newborns due to health complications resulting from dwarfism.
During one of the episodes of Bear Gryll's Bear's Mission show, the famous actor made a special appearance. While conversing with the television presenter, he got candid about his personal life and opened up about the tragic experience of his life.
According to Daily Mail, he detailed in the show about the personal struggles of his wife, Samantha, because of the loss of their infant child to medical complications.
The couple currently shares two children – 21-year-old Anabelle and 15-year-old Harrison. But before Anabelle's birth, the pair were blessed with a baby boy named Lloyd.
He was born with two form of dwarfism, which he inherited from his parents. Under strict medical conditions, he survived for nine days. But health complications soon caught on to him and claimed his life.
Follow us on Twitter to learn more.
What hurts the parents the most was the fact that Lloyd, whom they described as a beautiful baby, survived a few days before losing his life. It made the loss tougher to endure.
Unfortunately, the couple was yet to go through one more tragedy in their lives. It occurred when Samantha again was expecting their second child (before Anabelle), whom they planned to name George.
In a tragic turn of events, during the time of delivery, Samantha gave birth to a stillborn child. The misery of the couple knew no bounds.
For Davis and Samantha, bearing the pain of two consecutive tragedies was imaginably tough. However, Davis stated that their suffering also brought made his relationship with his wife stronger and brought them closer.
Davis himself was born with a rare form of dwarfism which is known as spondyloepiphyseal dysplasia congenital (SED), which hinder the formation of his bone endings. This led to hindrance in his growth. His wife, Samantha, was born with another form of dwarfism, which is also known as achondroplasia.
The two infants that they lost had inherited a fatal combination of their parents' conditions, which made the loss even more heartbreaking for the parents.
In 2014, Samantha told Daily Mail in an interview that Lloyd had survived the fatal medical condition for nine days, and he had been the only child to have done so far. From Lloyd, even the doctors were able to learn a few things.
She further revealed that when the baby took his last breath, he rested in Samantha's arms after his life support had been turned off.
Married in 1991, the couple were blessed with two more beautiful babies, Annabelle and Harrison, who have gone on to make their debut in a Harry Potter film.
Davis has further bagged important roles in iconic movies including Harry Potter and the Star Wars franchise.
Please fill in your e-mail so we can share with you our top stories!