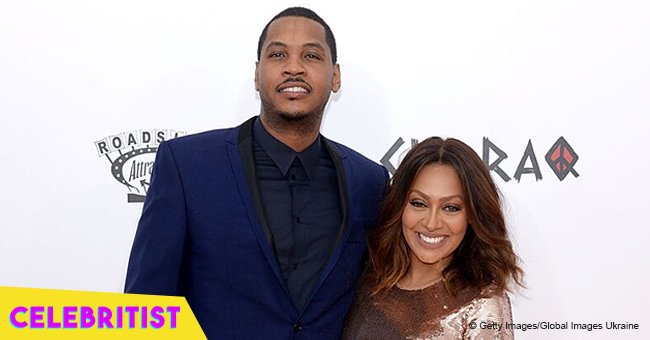 Carmelo and LaLa Anthony spotted together with their son at NBA Africa game

For a couple that has been denying rumors of getting back together soon, LaLa and Carmelo Anthony have been spending a whole lot of time together. The couple and their child Kiyan were spotted sitting courtside in NBA Africa, while Melo does a youth leadership programme in the area.
Carmelo Anthony continues to be one of the most skillful players in the NBA. However, even a superstar like him sees far more important things in life than just shooting buckets and scoring points. According to the NBA superstar himself, philanthropic work is something that he continuously tries to do.
IOL reported about an interview conducted with the 10-time NBA All-Star, who has made being active in charities a priority in his life.
"Charity work is important for anybody, especially for those of us who are in privileged positions to make a difference in this world."
The Oklahoma City Thunder player heads his own foundation called the "Carmelo Anthony Foundation", which runs outreach programs and donations for under-served communities. While he has been active in the United States, Melo hopes to widen his charity work scope to the outside of the US.
"Today I watched @carmeloanthonydonate his 23rd basketball court that he rebuilt & refurbished in a township in Soweto, South Africa. This is a moment I will never forget"
That is why when the National Basketball Players' Association (NBPA) invited him to join them in South Africa, he did not hesitate. The baller is now an ambassador for the NBPA, and he and some other NBA players kicked off the "More Than a Game" youth leadership programme in Johannesburg this week. It is a program in partnership with the Nelson Mandela Foundation, and together they aim to create a cultural exchange and bring together young South Africans and Americans who are not only avid fans of sports but are also community leaders and activists.
The programme aims to bring about children from different backgrounds to explore how basketball and social activism can intersect, in celebration of the centenary of the birth of Nelson Mandela.
Please fill in your e-mail so we can share with you our top stories!