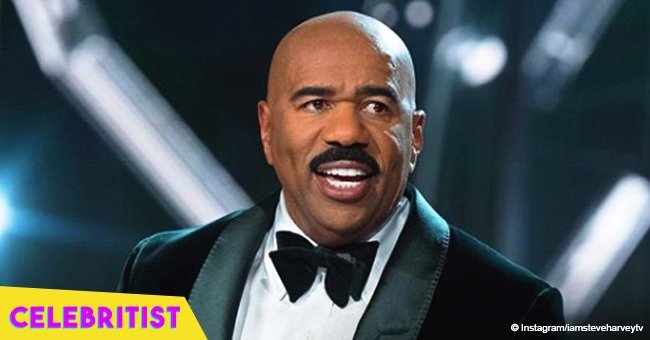 Steve Harvey shares hilarious pic after French family asked him to take a photo
While on vacation with his wife, a French family approached Steve Harvey to take a photo. The joke was on him, however, as while he was ready to smile for the camera, he realized the family was asking for something else rather than a photo with him.
The talk show host made sure to share what happened last Friday, posting the funny encounter on Instagram to give his fans a good laugh. Steve explained that while touring Europe with his family, he thought that a group recognized him to be a celebrity and started preparing for a photo-op. It turns out that the group wasn't making that type of request but instead, needed his help to take their own family photo.
"My family off camera dying laughing... French-speaking family had no idea who I was and asked for a picture I thought they wanted me in it... NOPE!!"
His comment section was then flooded with comments applauding him for his humility after he went along with what the French family had asked without imposing his influence or even who he actually was.
Steve and Marjorie Harvey have been traveling Europe for the past month, definitely living their best lives. After 11 years of marriage, the couple continues to explore the world together and continues to prove that they are one of the most stylish Hollywood couples out there.
Spending time with family is clearly one of their priorities, and lucky for us, they give us front view seats to see what has been going on in their travels. The TV show host's team put together a lovely video for fans to enjoy, showing a glimpse of all the beautiful sights and experiences that the Harvey family has enjoyed in their most recent trip.
"@marjorie_harvey and I.... Cool moments from the vacation with the Fam and don't ask me nothing bout the music cause I don't know but thanks to a great 25yr old @mattwoodvisuals we got some great footage"
Right when they got home, Steve went straight to work, sharing a video of his motivational piece which he posted on his YouTube channel. Check out the quick teaser he shared on his Instagram page here:
Please fill in your e-mail so we can share with you our top stories!