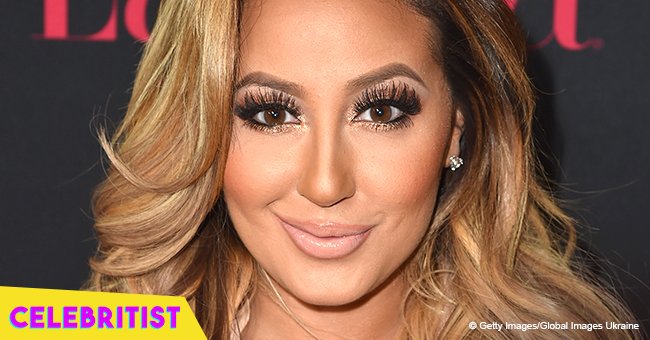 Adrienne Houghton stuns in pink outfit, posing in convertible Mercedes while on vacation

Adrienne Hougton is currently vacationing in the French Riviera, and she revealed her ride of choice while touring the Italian hotspot in a post she shared with her followers. The television star was all smiles sitting on a Mercedes overlooking the French coast, a celebration of the life she enjoys today.
Adrienne Bailon-Houghton has come a long way from her days in a church choir where she was discovered by Ricky Martin. The singer who's now also a television personality has so much to celebrate which is why she deserves to live a good life, as represented by her latest post where she's sitting on a luxurious Mercedes convertible while on vacation in Europe with her husband.
Adrienne's career began after she performed as one of four singers for Ricky Martin's 'Livin' La Vida Loca World Tour' in 1999. She was one of the best singers in her church choir at the time who were chosen to be part of the concert.
Following that stint, she joined the girl group 3LW which eventually became 2LW after one of their members, Naturi Naughton left the group in 2002. Soon after that, Adrienne and her other 2LW group mate went on to star in the film 'Cheetah Girls' alongside Raven-Symone and Sabrina Bryan portraying a fictional girl group. The success of the film led Adrienne to be a part of the fictional group-turned-real but eventually moved on to a solo career.
Adrienne's career was also peppered with a love affair with Rob Kardashian from 2007 to 2009 which led to her appearance in a number of episodes of "Keeping Up With The Kardashians.' However, the relationship went sour when she discovered Rob was cheating on her.
Today, Adrienne is a co-host of 'The Real' which makes her a regular fixture on television. She's been part of the show since it was launched in 2013. Adrienne is also married to fellow musician Israel Houghton. The pair tied the knot in 2016.
That said, Adrienne's latest post is a clear indication of the kind of life she now enjoys. In the photos she shares from her vacation, her smile is genuine, as she takes in the sights of the beautiful French Riviera while sitting on the edge of a silver Mercedes with its top down. Adrienne fashioned a pink outfit with a revealing cleavage, and she wore a bandana around her head. "Road trippin' to Eze", she wrote in her caption, as she revealed the make of her vehicle, a Mercedes 1956.
On a side note, Kim Kardashian recently brought up Adrienne because her daughter, North West, is currently obsessed with "Cheetah Girls." Sharing a clip from the film, Kim tagged Adrienne and wrote,
"Should I break the news to North that this could of been her auntie?!?!?!"
Having seen Kim's post, Adrienne responded with,
"I just woke up to this! LOL."
She also poked fun at her hairstyle and her outfit. As for Kim's "auntie" remark, she thought it was "hysterical."
Please fill in your e-mail so we can share with you our top stories!