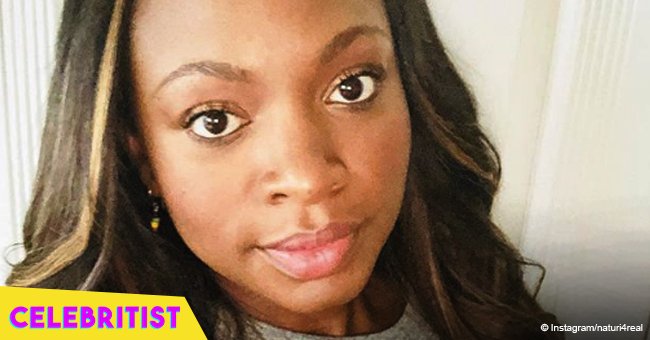 'Power' star Naturi Naughton sizzles in blue swimsuit, flashing shapely leg & natural hair in pic
Naturi Naughton just gave her fans a peek at her shapely legs and natural hair posing in a swimsuit in her latest photo. The 'Power' star who evidently has the power to slay in her recent post was dressed to impress at a party of her friend while flaunting her curves and her curls.
It's only been a year since Naturi Naughton welcomed her first child and she's now showcasing an incredible figure. In a photo she shared on her Instagram, the actress was dressed in a one-piece royal blue swimsuit with a translucent white skirt to cover her lower half. She maximized her skirt's waist-high slit by flaunting one of her legs as she held on to her natural short curls which she often disguises in wigs and long tresses.
The 34-year-old has always been very adventurous when it comes to her locks. She would often experiment with hairstyles depending on her mood. She revealed this bit of information during an interview with Hype hair.
"I like to do braids. I wear a long weave sometimes or I wear my own hair in a short style. I'm open to trying different things; it all depends on how I'm feeling, but my favorite is my short haircut!"
For her friend's birthday party, Naturi opted to keep things natural by allowing her locks to sit freely at the top of her head. She wore a white headband to accessorize along with a pair of gold hoop earrings.
Naturi shared a series of snaps from the party including one where she removed her skirt and posed alongside the birthday celebrant and another girlfriend.
At one point, the former 3LW member also showcased her singing skills as she serenaded her friend with her version of 'Happy Birthday.'
Naturi became a first-time mom in July 2017 to her daughter Zuri. Last month, she gushed about her toddler taking her first step to People.
"I'm loving motherhood, my baby just took one step by herself, she's trying to walk."
The actress also said the joy of motherhood made her appreciate the difficulties that came with it even more.
"These milestones are making me feel like it's all worth it. You know being pregnant, shooting, breastfeeding while shooting — I did a lot. I was shooting four and a half months into my pregnancy."
Naturi currently balances her time between her daughter and her commitment to "Power. She's now on her fifth season on the show.
Please fill in your e-mail so we can share with you our top stories!