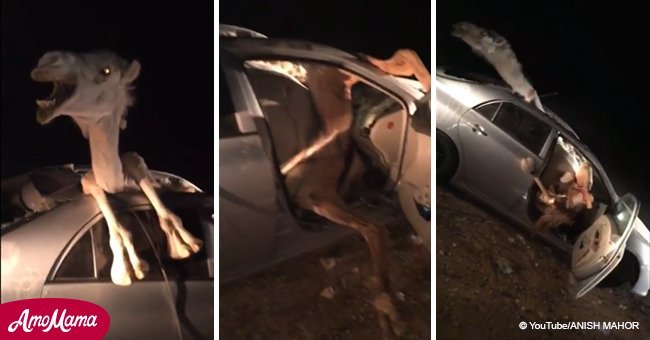 Camel gets stuck in a car and desperately tries to escape
A speeding driver collided with a camel, and the accident caused the animal to become entangled in the vehicle.
The incident took place near Bikaner in India. From the footage uploaded to social media, the camel can be seen with his head through the sunroof.
An eyewitness told reporters that the camel was crossing the road when the vehicle slammed into it at high speed.
Follow our Twitter account @amomama_usa for more stories. Please note, the videos linked in this article contain graphic content.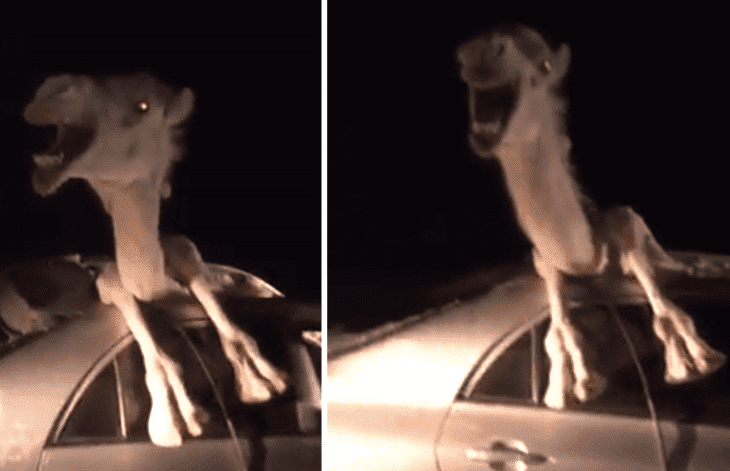 Source: Facebook/Karachi Cow Mandi - Bakra Eid 2018
The animal was "sitting" in the driver's seat of the car with its one leg coiled on the seat, and the other leg was sticking from the windscreen.
The driver managed to escape from the 5-door vehicle sometime before the video was taken and appears to unharmed.
It took more than four hours for the animal to be freed. Thankfully, he survived the ordeal and was attended to by a veterinarian.
One Twitter user thought it was a dinosaur, while another user joked that it would be hard to explain this incident to an insurance company.
Jamese Alexander said it was sad that animal was hurt, while a user known only as King Trunks noted: "That fool broke its leg."
Katherine wanted to know if readers are "just gonna [sic] ignore his poor leg dangling by a thread," while Brock Brown ventured a somewhat accurate guess.
He assumed that the camel "got hit by the car," and smashed the hood when he landed on it. Brown added:
"Everyone hopped out; he struggled because how broken his leg was and got himself unfortunately tangled. I wasn't there tho. [sic]"
Earlier this year, a 13-year-old boy was injured, and an 8-year-old lost his life in Israel when the car they were traveling in collided with a camel.
Their two other brothers and father only sustained minor scrapes and bruises, while the mother was treated with severe head injuries.
Please fill in your e-mail so we can share with you our top stories!