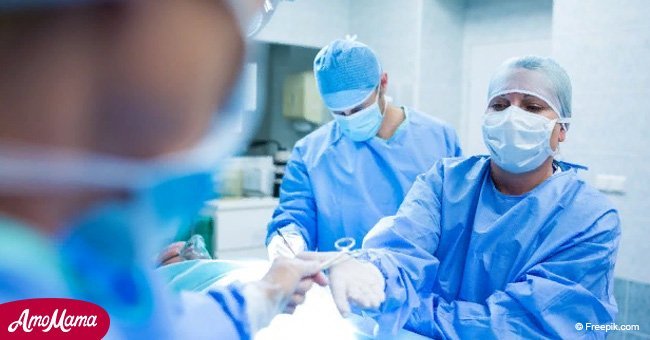 'I felt them cut me open': Mom describes the horror of emergency c-section without anesthesia
Delfina Mota, 26, a mother of two, suggested she wasn't given anesthesia during an emergency C-section procedure. She and her boyfriend sued the hospital.
An Oceanside hospital is being held responsible for the alleged painful procedure done on Mota, where she was reportedly conscious when she was cut open.
Mota was 41 weeks pregnant on November 16, 2017. She was rushed to Tri-City Medical Center, where doctors took her to the operating room for the emergency procedure.
In the legal complaint she filed, Mota suggested that the anesthesiologist was nowhere near the room, but only frantic doctors who decided to deliver the baby without anesthesia.
Follow us on Twitter at AmoMama USA for more stories and updates.
Speaking with People, Mota recalled that she was crying the whole time because she was scared and had no idea what was happening.
She said she heard her obstetrician, Dr. Sandra Lopez, saying that they "have to just do it."
Describing the painful moment, Mota said, "That's when I felt them cut me open. Nurses were holding me down … I could feel her cutting me and, with her hands, opening me. That's when I passed out."
Mota's boyfriend, Paul Iheanachor, was just outside the delivery room and was panicking at the time.
He claimed that he heard on the loudspeaker multiple times that the anesthesiologist, Dr. David Seif, was being called.
The 35-year-old father said Dr. Seif only arrived at the delivery room after baby Cali Iheanachor was born.
Mota claimed she had regained consciousness by then, and Dr. Seif reportedly told her, "I'm gonna make you feel better now."
Months later, Mota said she is still in lots of pain from the procedure. She explained that she didn't take the pain medication the doctors gave her because it only made her tired and sleepy.
The experience took a toll on Mota and Iheanachor's relationship, as well as Mota's relationship with her baby.
She said, "I still don't feel like myself. It's something traumatic. I'm scared now to have another baby."
The couple is currently suing Dr. Lopez, Dr. Seif, and the hospital for medical malpractice, assault, and battery.According to People, the couple is asking for over $5 million in damages.
Mota and her boyfriend expressed their hopes that the suit will push other hospitals to implement stricter policies to avoid any more similar occurrences.
As for the hospital, the Tri-City Medical Center released a statement to the San Diego Union-Tribune and denied all allegations.
Please fill in your e-mail so we can share with you our top stories!