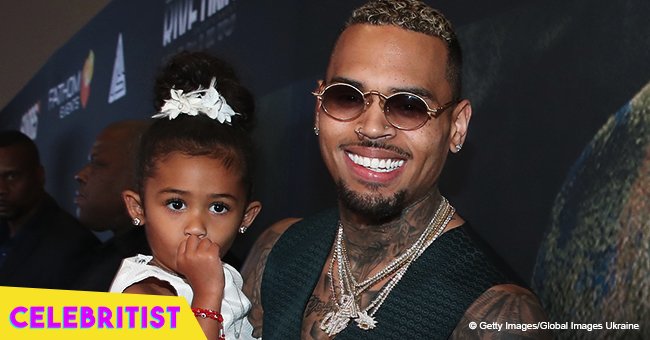 Chris Brown melts hearts with pic of mom and daughter Royalty at his concert tour finale

Amid the drama Chris Brown is surrounded with due to cases filed against him, the singer still had a reason to smile when his mother and daughter surprised him during the finale of his concert tour. He was so blown away by the gesture and made it known in a post he shared on social media.
Chris Brown's 'Heartbreak On a Full Moon Tour' ended on a sweet note as he was joined by his mother Joyce Hawkins, and his daughter, Royalty Brown for his final bow. The two special people in his life showed their support for the singer by grooving to his songs from the audience with Royalty even bringing friends along to enjoy the show with her.
"Momma and Lil Momma surprised me," Chris wrote on his Instagram after the show as he shared a photo of the three of them wrapped in a tight hug. Chris carried his four-year-old while he circled his free arm around his mother. The heartfelt photo revealed a different side of the singer whose troubles seemed to overshadow his talent lately.
On July 5, the singer was arrested after his concert in West Palm Beach. The arrest was related to an outstanding warrant. He was later released on bail so he could continue with his tour commitments. In June, Chris was also accused of hitting and stalking a woman following another sexual battery lawsuit filed on him in May.
Royalty's presence in Chris' show brings light back into Chris' seemingly dark days. The proud father revealed how he was "mind blown" by her. He posted a video of his little girl dancing to his song 'Wall to Wall' with her friends and wrote,
"She 4 bringing her friends to my concert…im officially mindblown."
In 2015, Chris made a promise to put his daughter first while focusing on his music. He planned to dedicate all his performances to her.
"My main focus now is just my music, but my daughter first. When it comes to me being able to perform and do this, it's different. Right now I'm just doing it all for her."
Chris also revealed that he was looking forward to having more one-on-one time with Royalty, whose mother is Nia Guzman, before considering having another child. He also said he would love to give his daughter more siblings in a few years' time just so she won't be an only child.
Please fill in your e-mail so we can share with you our top stories!