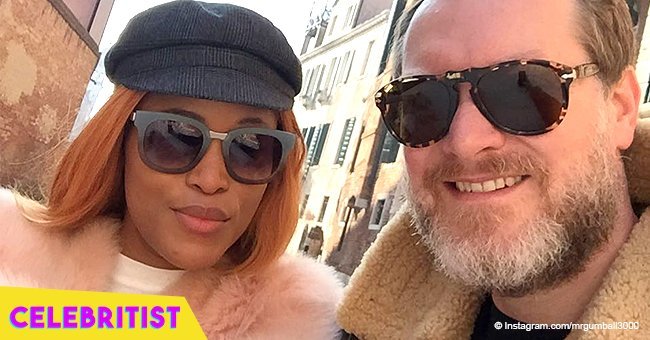 Eve cuddles up to millionaire husband, posing next to luxurious car & plane in new photo

It's safe to say that Eve is a happy wife. The rapper took to Instagram to share yet another photo from the prestigious Gumball 3000 event hosted by her millionaire husband, Maximillion Cooper.
In this new photo, Eve is seen cuddling up to her husband of four years as they pose at the airport beside a sports car. We've been seeing a lot of race cars in Eve's recent posts, thanks to the nature of Gumball 3000. In the background of this particular photo is the plane both husband and wife are about to board. Eve explains in her caption:
"Day 3 #gumball3000rally about to board the plane to Japan from Italy. I Love that the safety car at the airport is a #ferrari #gumballlife #gumballair @mrgumball3000 @gumball3000."
The comment section was filled with people telling the Philadelphia-born rapper how lucky she is:
"Love you eve...you are living your best life right now"- @blackbuttaflie
"I'm living vicariously through you right about now @therealeve Enjoy your trip!"- @alienunicornyy
"Loove these cars!!! Keep showing them!!!"- @shonny_sunshon
Others were in the comments to point out her mistake in naming the car, as this user:
"That's a Lamborghini, not a Ferrari. C'mon Eve"- @r1l0
One thing is sure, though: Eve is out here living her best life. Her recent posts have been filled with glamorous photos of their visits to all the locations the Gumball 3000 train is scheduled to pass. London, France, and Italy are some of the destinations Eve shared with her 1.8million followers on Instagram.
The Gumball 3000 rally, which features car races, celebrity appearances, musical performances, and art displays among others, is where Eve met her husband in 2010. In honoring its significance, the pair held their wedding as the grand finale of the event's 2014 edition.
This year, Gumball 3000 is celebrating its 20th anniversary. The rally took off in London and is scheduled to wrap up in Tokyo, Japan.
Please fill in your e-mail so we can share with you our top stories!