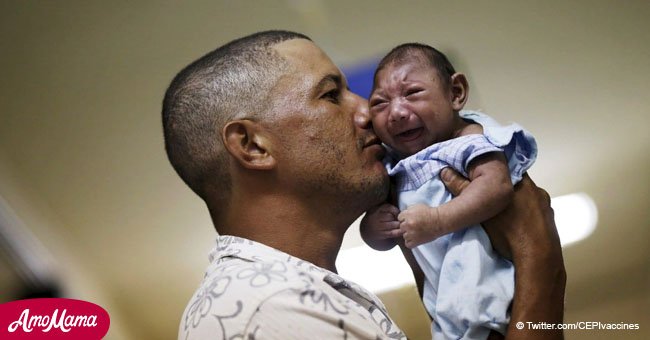 Doctors warn that Zika infection during pregnancy can severely affect babies
Zika exposure during pregnancy can cause critical health problems in babies, including birth defects, problems with eyesight and hearing, seizures, and developmental delays.
An extensive study confirms some of the worst fears about challenges infants born with Zika will likely face even if they seem fine at birth.
The study included 1,450 babies, who were 1-year-old by February 2018. These babies had been exposed to the Zika virus.
This virus is spread by daytime-active Aedes mosquitoes, such as A. aegypti and A. albopictus.
According to the study, six percent of the babies were born with birth defects, and by the time they turned one, 14 percent of them developed health problems.
Follow us on our Twitter account @amomama_usa to learn more.
The director of the Division of Congenital and Developmental Disorders at the Centers for Disease Control and Prevention, Margaret Honein, said: "We're beginning to see the full spectrum of the impact of Zika."
"This is really our first look at how these children are doing as they grow and develop, and really emphasizes that the Zika story is not over, particularly for these children."
In 2016, a massive outbreak of Zika in Brazil triggered an international public health emergency.
It was reported that when pregnant women get infected, the virus could cause babies to be born with tiny heads and severely damaged brains. This condition is named microcephaly.
The babies could also develop other health problems such as seizures, damaged vision, and developmental disorders.
In 2017, the CDC reported that about 5 percent of babies exposed in the womb are born with microcephaly and other birth defects.
However, the extent of the risk as babies get older is just now beginning to become noticeable.
In the new analysis, 20 babies whose heads were normal at birth had microcephaly by the time they turned 1.
Honein explained that it occurred because the baby's brain "was not growing and developing properly."
"It's really important that parents and doctors work together to make sure children get all the evaluations they need, even if they look healthy when they are born," Honein said.
"We are still in the early stages of learning about Zika. So we don't yet know what sort of problems might emerge when the children are 2 years old or 3 years old or when they reach school age."
The name, Zika virus, comes from the Ziika Forest of Uganda, where the virus was first isolated in 1947.
This virus can be spread from men and women to their sexual partners.
Please fill in your e-mail so we can share with you our top stories!