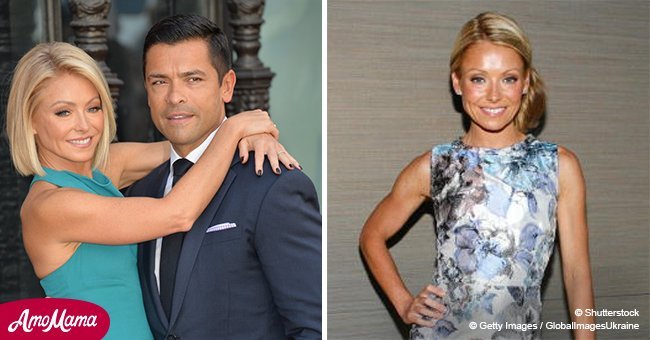 Kelly Ripa's engagement ring from her husband of 20 years

The popular television presenter showed off the ring her husband gave her two decades ago, but shared a secret about when he actually gave it to her.
Kelly Ripa and her husband, Mark Consuelos, have been married for 22 years already, and have three lovely near-grown children together. Yet with all that time passed, they still seem just as much in love as they were when they tied the knot.
Back in February 2017, Kelly Ripa took to her Instagram account to share a photo of the engagement ring Consuelos gave her with so many years ago.
There is a popular rule that says men should spend at least three months of their salary to pay for an engagement ring. It seems like Ripa's husband may have done so with the sparkler on her finger!
The host of "Live! With Kelly and Ryan" shared with her Instagram's followers a lovely picture of herself and her husband kissing each other. On her hand, her engagement ring is clearly visible.
While the convention is to date a while, propose with a ring, plan a wedding, and tie the knot, Ripa and Consuelos did things a little differently.
"We never had an engagement, we just eloped," she said, explaining that she hadn't been given an engagement ring before they got married. "It must have been making him feel a certain way that I didn't have a ring so for our 10th anniversary we bought me a ring! I'm sure my kids will drag it from my dead body but I will never part with it because it's so special."
The ring has a simple design, and is made of a gold band and a large round diamond. Her wedding band adds some more bling to the package: a simple band with diamonds all around.
Although Ripa is adamant she won't part with her ring, she might stick to the tradition of passing the ring down to her teenage daughter Lola.
The couple first met in the 90's when Consuelos auditioned for a role in "All My Children." At the time, he believed Ripa was so beauitful that he wouldn't have a chance with her.
Fortunately for Consuelos, Ripa was just as taken with him as he was with her, and they started dating soon afterwards. A few months later, the man popped the question, and they eloped in Las Vegas on May 1, 1996.
The couple has since welcomed three children, 21-year-old Michael, 17-year-old Lola Grace, and 15-year-old Joaquin.
Please fill in your e-mail so we can share with you our top stories!