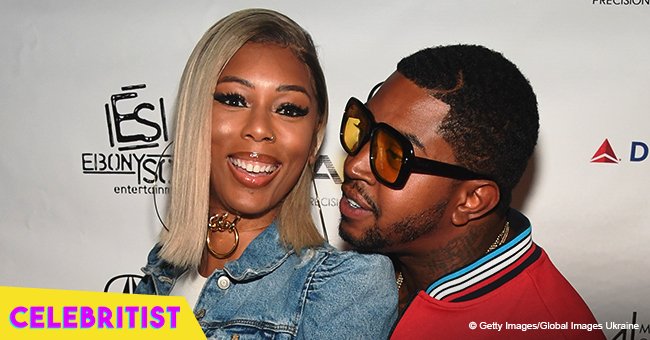 Lil Scrappy's wife Bambi shares adorable pic with twin babies ahead of her due date
"Love and Hip Hop: Atlanta" star Bambi Benson proves she is ready to be a mother after sharing a sweet photo of herself and two young children while heavily pregnant with her child. Trying to get more accustomed to being with kids, she could be seen enjoying some time with twin babies in her latest snap.
In the photos, Lil Scrappy's beautiful wife could be seen flaunting her baby bump and proving that not all pregnancies have to make you feel as if you had to stay in bed the entire day. Free from stretchmarks and a bloated body, Bambi happily played with twin babies Ava and Ashton.
Although she looks great physically, Benson is just like any other pregnant mom, who faces challenges along the way. After announcing that she was having a boy, she shared how pregnancy has been beating her up despite looking fine.
"Been ignoring my friends for months sorry guys it's been a struggle. But I'm soooo thankful for my wonderful husband who has been more amazing than I ever imagined. Thank you Boo… I'm not looking fine and slaying no pregnancy, it obviously slaying me."
The couple's supportive fans have been so excited about their baby news, and Bambi opened up about her pregnancy to them after a while. Although she didn't announce it right away, she eventually gave in and started sharing more about her health and her baby.
Despite her struggle adjusting to pregnancy, she is extremely excited to be a mother. Her husband Lil Scrappy has been extremely supportive of her throughout this whole process, tirelessly making sure she is alright and gets whatever it is she needs. The doting husband even shared how his daughter from a previous relationship with Erica Dixon, Emani Richardson, is ready to welcome her new baby sister by helping her stepmom cope through a particularly hard day.
In an interview with The Shade Room, Bambi shares why it took her so long to announce her pregnancy. She shared that ever since she experienced an unfortunate miscarriage years ago, she wanted to wait until her pregnancy was in a "safe place" before sharing it with the world. Now that she is popping and her baby boy is healthy, Benson has had no apprehensions about what fans should or shouldn't know about her pregnancy. She has been quite open about both her struggles and triumphs as a first-time mother on social media whenever she can.
Lil Scrappy's love for Bambi helps her cope with her pregnancy, as he has been sharing several videos and photos of his lovely wife all over Instagram. The rapper took a moment to recognize his wife and future baby mama for "Woman Crush Wednesday," which boosts her morale especially on days where her insecurities kick in.
The "Love and Hip Hop: Atlanta" star wrote:
" I just wanna say I love you and thank you for being strong when the conditions should make you weak ,thank you for standing when you could be sitting , thanks for the love you give when you could be a hateful thing lol, and thank you for weathering the storm with me and taking care of the fam , thanks for having my son and taking all the pressure and the pain, I love u my #WCW my wife."
Now that everyone is kept updated about the status of their pregnancy, it's only a matter of time until they announce that their baby boy has arrived - and we can't wait!
Please fill in your e-mail so we can share with you our top stories!