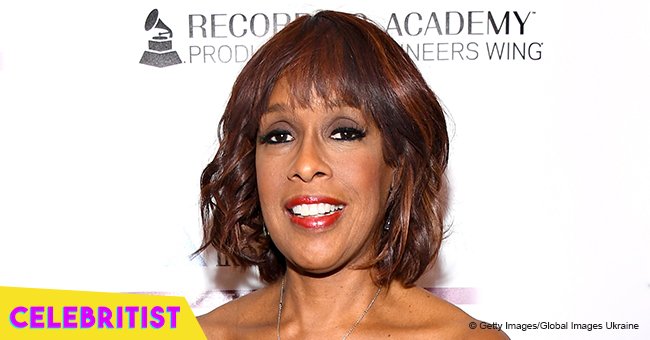 Gayle King, 63, steals the show in blue floral dress, posing on boat in photo from vacation
Taking a break from her job at CBS, Gayle King looked stunning as she visited one of the most famous tourist attractions in Capri, Italy. Even though her best friend Oprah was not there, King can boast about the good company she had on the trip.
Gayle King has been spending a few days away from her exhausting and emotional wrecking job as a news anchor for CBS. The 63-year-old flew to Italy to enjoy the gorgeous views and food of the Mediterranean.
In her most recent Instagram post about the envy-inducing vacation, King looks relaxed and stunning in a sleeveless blue floral dress while sitting on the edge of a private yacht. In the background stands the famous Faraglioni in the Amalfi Coast.
Gayle also shared a video going under the rock arc and a photo of the beautiful coastline.
"Vacation almost over! Anybody been here before(Smile) swipe left for one the best places to be a tourist !" [sic]
While King traveled alone, unlike many other occasions where she joined best friend Oprah on vacation, the media maven was in good company.
She shared a pic enjoying the sun aboard a boat with designer Diane von Furstenberg, and she was also photographed with Tom Hanks and his wife after visiting the Blue Grotto.
According to a report from the Daily Mail, King joined a string of A-list celebrities at the luxurious Google Camp, a super-secret three-day gathering organized by Google where people from all sides of the entertainment industry reunite to…well, nobody knows what they do.
Lady Gaga, Harry Styles, Matthew McConaughey Bradley Cooper, Leo DiCaprio, George Lucas, Michael Jordan and Kevin Durant are some of the names reportedly in attendance.
While some people would never put Gayle King next to such a list of celebrities, and others believe she has earned her fame only for being Oprah's friend, the mother of two has proven her worth in the entertainment industry in more than three decades of career.
King touched the subject on an interview with the New York Times a few years ago, saying:
"If I didn't think I brought something to the table, or if I wasn't secure enough with myself then maybe it would bother me. But you know, I've been anchoring the news for a long time. I won three Emmys. I've proven that I can do that. I never feel I'm in her shadow. I feel I'm in her light, that's how I look at it."
Oprah proved that the sentiment is mutual when she told O Magazine:
"There's nothing I wouldn't do for her; there's nothing she wouldn't do for me. There is a line of respect that is unspoken, on both our parts."
Gayle and Winfrey first met while both were working at a Baltimore TV station in 1976. They have been friends since then.
Please fill in your e-mail so we can share with you our top stories!