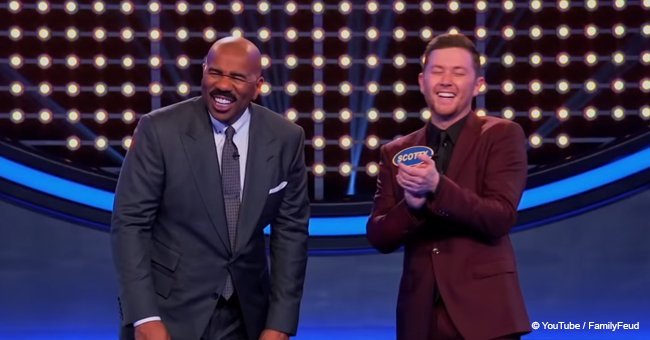 Scotty McCreery's awesome answer on 'Celebrity Family Feud'
Scotty McCreery and wife, Gabi, won $25,000 worth earnings by completely dominating the competition during an episode of Celebrity Family Feud.
The video uploaded to YouTube by the program's official channel shows the This Is It singer competing against actor-comedian Chris Kattan for the big prize, which would now be donated to St. Jude Children's Research Hospital.
In the short video clip, Scotty and Gabi are pitted against the family of Kattan in which they have to try to answer as close to the popular answer, given by their survey, as possible.
Gabi was the first one to try and answer the hilarious questions asked by the host, Steve Harvey. She managed to gather an impressive 140 points in total by giving several answers close to the popular opinion.
Because of her successful performance, Scotty now required only 60 more points to win the game.
However, Scotty managed to perform even better than Gabi. He gave three answers which were also voted number one by the survey, which meant that he gathered maximum available points from three answers to win the big prize.
One of the questions, Harvey asked Scotty left the audience as well as the host in hysteria. "Something you think of when you hear the word boo," Harvey asked
To this, Scotty immediately replied, "Yah."
"Come on!" Harvey cannot control his laughter and gives Scotty a big high-five. "Oh, man. That's a good one, boy."
The answer to that question, however, was given more accurately by Gabi. The number one answer to that question from the survey was 'Ghost,' which Gabi gave during her turn.
At the end of the video clip, Harvey even suggested that perhaps the number one answer to the question should have been 'booyah' after all.
The episode aired on August 5 but was recorded in June, only a few days ahead of his wedding with Gabi. The couple was also joined by other members of the family including Scotty's father-in-law Merrick Dugal III, father Michael McCreery, and grandmother Paquita McCreery.
Please fill in your e-mail so we can share with you our top stories!