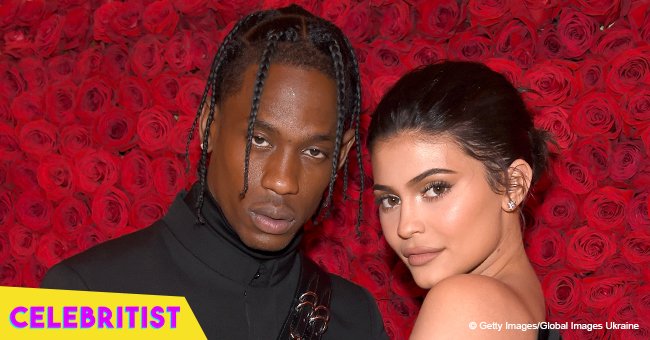 Kylie Jenner heats up talk by sharing video of her & Travis Scott's daughter Stormi in white dress
Kylie Jenner recently turned 21, and she shared videos of her celebration on Instagram. However, some fans speculate that Travis is not Stormi's father.
The makeup mogul and reality star had a lavish party with family and friends at the trendy L.A nightspot Delilah on Thursday.
The next day, she continued the celebration at home with her family. Jenner took to her Instagram stories to share several pics and videos from her fun night.
She also added one adorable clip of Scott holding Stormi, who was rocking a cute white dress, while the duo giggled together.
In the background, Jenner was blasting a song from Scott's latest album, "Astroworld," as she talked her daughter.
It's been six months since baby Stormi was born and Jenner surprised the world with the news.
She kept her pregnancy a secret for as long as possible and only announced she was a mother after Stormi was born.
Jenner began dating Scott only one month before they conceived the adorable girl, according to their joint interview on GQ magazine.
And while the young couple has been private about their relationship, fans have taken advantage of that to create rumors about Stormi's paternity.
According to some people, Stormi doesn't look like her rapper-dad at all. They also noted that the girl has a striking resemblance to Jenner's former bodyguard, Tim Chung.
Fans have created conspiracy theories about Chung being the actual father, accusing Jenner of lying not only to Scott and her family but also the rest of the world.
"Baby is definitely cute but she looks Asian and white," wrote one fan on the comment section of the video reposted by The Shade Room.
And another added "Takes a strong man to raise the security guards baby."
A third fan addressed Scott directly as they wrote:
"Travis. You are not the father. Nothing to do with skin color! Look at the eyes, nose, all of the features are not matching up AT ALL but whatever. We can keep playing along."
Many others defend Jenner and Scott, stating that baby Stormi looks like the perfect mix between the pair and that she even has her dad's nose and hair.
Jenner has never addressed the rumors directly. After being harassed by fans and the media, Chung, an aspiring actor, and model, decided to shut down the talks with an Instagram post.
He made it clear that he was doing it so people could stop disrespecting Jenner, Scott, and Stormi.
"I am a very private person and would normally never answer to gossip and stories that are so ridiculous that they are laughable," he wrote on Instagram, adding:
"I would like to set the record straight that my interactions with Kylie and her family have been limited in strictly a professional capacity only."
Despite his declaration, people continue to speculate that he's Stormi's real dad, even if he's not even around the Kardashian family anymore.
Please fill in your e-mail so we can share with you our top stories!