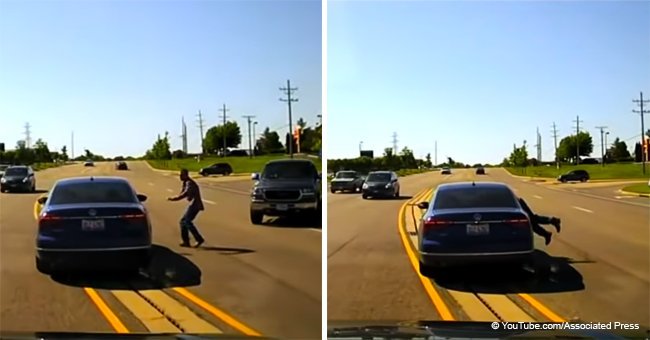 A man dives head-first into the moving car of a driver having a seizure

This dramatic rescue of a driver who experienced his first seizure behind the wheel is inspiring others. 39-year old Randy Tompkins could never anticipate his own act of bravery upon seeing a car heading straight towards him at a busy intersection in Dixon last Friday.
The blue car crawled through a red traffic light, causing other drivers to immediately brake their vehicles and allow it to pass. It then slowly approached Tompkins, forcing him to swiftly switch to reverse and move a safe distance away to avoid any impact and harm to himself and his wife, who was also in his pickup truck.
Amidst his speedy reaction, Tompkins noticed that the driver was experiencing a seizure as "he had his arms up by his chest." It didn't take too long before he displayed courage that prompted feelings of hope on social media.
"I didn't know if the guy was gonna push the gas, jerk the wheel or whatever, so I waited as long as I could to back up."
This is what was going through Tompkins' head before he took life-saving action.
"Once he got about a half-car length away from me, I parked my truck at an angle and jumped out of my vehicle."
Follow us on Twitter for more @amomama_usa.
Police, who were just arriving at the scene, observed as Tompkins "jumped through the window," and inserted two fingers into the driver's mouth, a man in his late 20s. Tompkins then immediately put the car in park. Soon after, the officers approached.
Tompkins said:
"I was worried, but I would do that for anybody. It just happened to be I was at the right place at the right time."
Find the AP Central Region's Twitter post of the incident here.
Police expressed how "without hesitation," this man had come "to a complete stranger's aid." They have not yet released the name of the driver, who was taken to a hospital close by.
Dixon Police Lt Clay Whelan stated that
"Obviously we would not recommend people doing this."
But, he does agree that it "was definitely a very heroic act on his part."
The incident, which had occurred near North Galena and 4th avenues, prompted Tompkins to recall an event that taught him quick-thinking under pressure when he was just a 16-year-old. In a similar occurrence, a woman of 92 years was having a seizure at the wheel and collided with Tompkins head-on.
"I always wished I could have gotten out of the way ...so I'm always prepared."
Tompkins said that on Sunday via Facebook, the driver
"messaged me and thanked me and said he was going to go see a couple doctors because it was the very first seizure that he's ever had."
Watch the entire video of the incident below:
Tompkins also said that:
"I asked him to keep me posted and he said he would do so."
Tompkins appears quite modest, while most persons would agree with Officer Lincoln Sharp that it's not everyone who would respond that way. Officers Sharp and Patrick Ginn were the ones present at the scene. They had attempted a traffic stop before seeing Tompkins' daring act. Sharp continued:
"To see that and recognize that something wasn't right ... it was pretty tremendous."
Please fill in your e-mail so we can share with you our top stories!