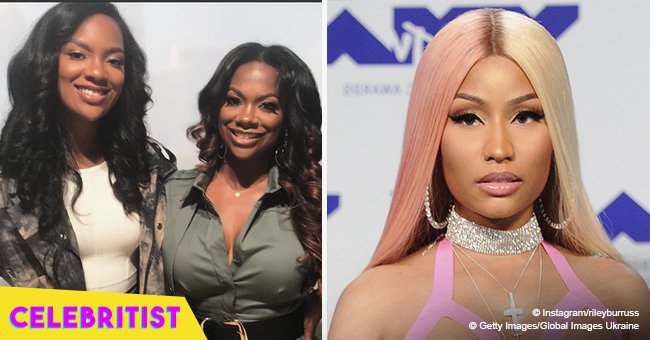 Kandi Burruss' daughter flashes wide smile in recent picture with Nicki Minaj
Kandi Burruss' daughter Riley is the biggest Nicki Minaj fan, and she was not afraid to show it when she finally met her idol. The teenager was all smiles as she took a photo with the iconic rapper, trying her best to keep her cool during that moment.
15-year-old Riley Burruss is one of the biggest Nicki Minaj fans, and even her famous mom Kandi knows that. Aside from pulling some strings for her daughter to meet her idol, she has also given Riley the opportunity to grab some of the coolest Nicki Minaj merchandise available online.
In the recent photo that Kandi posted, Riley and Nicki were in her album listening party, where the rapper promised the 15-year-old an invite, which she really did. Impressed by how she kept her word, Burruss made sure to promote Nicki's new album called "Queen" which just dropped worldwide.
During one of her recent interviews with Bravo TV's The Daily Dish, the topic of Nicki Minaj and Remy Ma's decade-long feud reaching all-new heights was brought up after they both released diss tracks about one another. While Kandi is most definitely aware of the ongoing feud, she made sure to make herself clear that she was not involved in any way, and she was not about to side with one particular person, especially since her daughter Riley Burruss loves Nicki. When asked if she was about to side with a particular woman, she said:
"Oh my God! No I do not! I think both of those ladies are really cool and at the end of the day my daughter is a die-hard Nicki Minaj fan."
As to how much of a Minaj fan her daughter was, Burruss made sure to share the story about the time the rapper commented on her daughter's Instagram post releasing her new track called "Better Late Than Never".
"I mean when I tell you die-hard [fan], Nicki Minaj posted in her comments about her song telling Riley 'Congratulations'. And first of all, that meant the world to me as well that she would support my daughter in that way. But for Riley, Riley cried at school when she saw that Nicki Minaj commented in her post."
Now that it's clear that Riley might actually be Nicki's biggest fan, there is no reason why her mother Kandi should involve herself in the feud between the two artists. She would much rather respect the admiration her daughter has for her fellow artist, and continue to support whatever makes her happy.
Please fill in your e-mail so we can share with you our top stories!