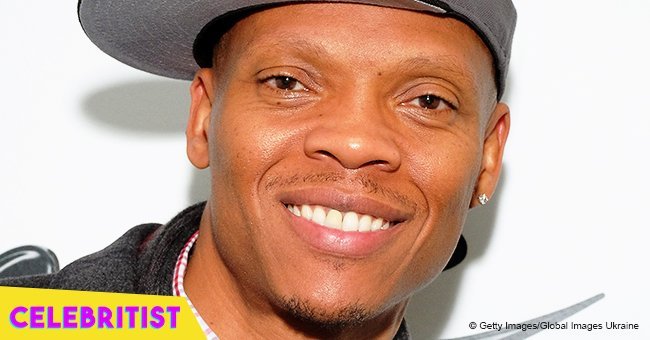 Ronnie Devoe's baby twins capture hearts, flashing cute smiles in close-up pics
New Edition bandmate, Ronni DeVoe and his wife, R&B singer, Shamari shared a photo collage of their adorable twins at bath-time. Ronnie and Shamari, who have been married since 2006, once credited counseling as the saving grace of their widely-envied marriage.
The photo shows the DeVoe twins, Ronald III and Roman, in various stages of bath-time, making funny faces at the camera. Ronnie and Shamari shared the cute snap with the boys' over 46,000 followers. The funny caption read:
"Scrub a dub rubber ducky time with bro-shot... #DeVoeTwins #SoFreshAndSoCleanClean"
What followed was a barrage of comments from their fans:
"Aww, so darn cute. Love those dimples and I see little teeny, tiny teeth. I love these twins; they are the cutest babies EVER. THEY MAKE MY HEART SMILE!"- @cynthia_l_johnson
"They are soooo handsome! Mom get ready because the girls are going to be knocking at your door!"- @ayediffmee
"Awww they're teething. Look at those eyes and dimples, too much cuteness!! Blessed"- @msalmanyc
"These babies are theee cutest! Both of them look so much like each parent! #CutenessOverload"- @angel_heart202
Ronnie, also a member of Bell Biv DeVoe (BBD), and Shamari, former Blaque singer, are regarded by many people as role models in a world where celebrity marriages pack up way too quickly. But the couple once revealed that they had marital issues and could only get through it after rounds of marriage counseling. Ronnie expanded:
"Sometimes you really just don't have the skills that are necessary to figure out how to navigate the challenges."
The 50-year-old dad, who is also a real estate entrepreneur, confessed last year that being a father ranked highest among all his achievements:
"From stars on the Hollywood Walk of Fame and movies that just break records of your life story and lifetime achievement awards and all of these different accolades like if they sit here, then having kids is like on the sun right now like the furthest star that's how much of a difference it is. It's like I'm whole now — it's crazy!"
Ronnie and Shamari welcomed their twin boys in 2017 after 11 years of marriage. Earlier this year, the couple hosted the second edition of their annual "Married 4 Life Walk," an initiative created to encourage couples in their commitment towards stronger and happier marriages.
Please fill in your e-mail so we can share with you our top stories!