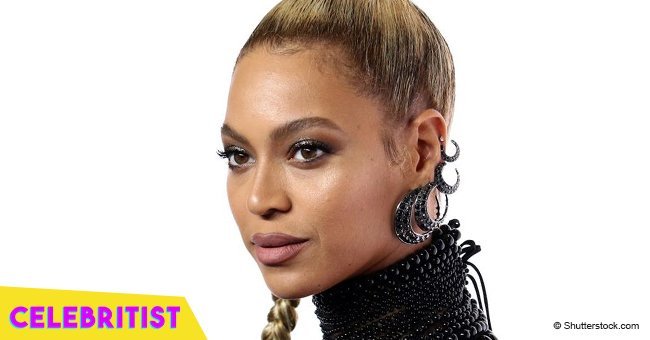 Beyoncé subtly responds to pregnancy rumors in 'flawless' video
It took only one gesture from Beyoncé to shut down the pregnancy rumors that have been plaguing the singer for months. And just in case fans were still skeptical, she opened about her body on the last Vogue issue.
Beyoncé is known for keeping her family away from the cameras for the most part. She only shares what she deems acceptable with fans, and an example of that is that until a few weeks ago when she finally posted an adorable pic of Sir and Rumi on her official website, no one had laid eyes on her twins.
Knowles, who has fans swirling with speculations about being pregnant, put those rumors to rest with her performance of the hit song "Flawless," in Cleveland, Ohio on July 25.
The Shade Room shared a clip of the 36-years-old mother of three rocking a tight black bodysuit that enhanced her tiny waist and put her toned legs on display as she told the crowd "You all know that your flaws make you beautiful, right?".
Then, she proceeded to sing the first lines of the song, lightly touching her belly as she sang "I woke up like this…Flawless." That single gesture was a clear message that Bey used to clarify the rumors while sending a message of body positivity to the crowd.
WHEN DID THE PREGNANCY RUMORS START?
Fans started to speculate about Beyoncé's pregnancy from the beginning of the "On The Run II" tour, her joint show with husband Jay-Z and its all because she's not sporting a flat belly with abs like she used to.
Her outfit choices for this tour include several high waisted pants, jumpsuits and jackets that cover her belly, which prompted fans to assume she was trying to hide it. And to add fuel to the speculation, Bey rubbed her belly at one of her shows, giving fans flashbacks of that time she announced her first pregnancy at the MTV Video Music Awards.
While many of her fans are just happy to see their favorite singer live in concert, others have made their mission to get as many shots of the singer's belly as they can to prove that she's, indeed, expecting a fourth Carter baby.
ABOUT HER PREGNANCY WITH THE TWINS AND BODY POSITIVITY
Beyoncé doesn't usually address rumors, relying on a silent treatment to the press and fans when people start talking nonsense and only coming forward with serious accusations or rumors. This time around, however, Knowles used the September issue of Vogue, which has her on the cover, to open up about the visible changes in her body.
In a series of written reflections about life, legacy, music, and ancestry, Beyoncé revealed the struggles her second pregnancy brought to her. She stated that after giving birth to Blue Ivy, she fell under society's pressure of snapping back quickly to her pre-baby body, so she worked extra hard to lose all the baby weight in three months.
With the twins, everything has been different. "I was 218 pounds the day I gave birth to Rumi and Sir. I was swollen from toxemia and had been on bed rest for over a month. My health and my babies' health were in danger, so I had an emergency C-section," she revealed.
After the C-section, Beyoncé confessed, her core felt different. She said:
"Some of your organs are shifted temporarily, and in rare cases, removed temporarily during delivery. I am not sure everyone understands that. I needed time to heal, to recover. During my recovery, I gave myself self-love and self-care, and I embraced being curvier. I accepted what my body wanted to be."
The singer's confession explains the "baby bump" that fans have been witnessing in her concerts. She also added that to this day, her arms, thighs, and breast are fuller, but she's happier than ever with her body.
She concluded:
"I have a little mommy pouch, and I'm in no rush to get rid of it. I think it's real. Whenever I'm ready to get a six-pack, I will go into beast zone and work my ass off until I have it. But right now, my little FUPA and I feel like we are meant to be."
Please fill in your e-mail so we can share with you our top stories!